Pokemon GO's Already Capturing Minds — And Money
"There are 'dormant' Nintendo fans eager to trial its content for smartphones," analysts say.
Millennials just got 150 more reasons to walk around staring at their cellphones as Pokemon GO takes the world by storm.
In stark contrast to the original 1990's version, played on a Nintendo Gameboy device, this augmented-reality game for cellphones forces its users to explore the world around them to catch the 150 Pokemon currently available, battle against other users, and collect items to power up their arsenals of pocket monsters.
The game, which launched in the U.S. last week, already commands more mindshare per user than apps like Snapchat or WhatsApp and is poised to have more daily active users in the U.S. than Twitter Inc. in short order, according to data from SimilarWeb. As of 6:30 am in New York, it's at the top of Apple Inc.'s App Store charts.
While the game is free to play, users are able to make in-app purchases — and that's something they'll will be forced to do if they want to progress in the game, according to Macquarie Capital Securities Analyst David Gibson.
"As users build their Pokemon inventory, spending money becomes needed to store, train, hatch, and battle," he writes. Gibson pointed out that the most popular Pokemon GO item in Australia is currently $0.99 worth of in-game currency meaning the game's App Store ranking "is being driven not by big spenders but by a large number of users."
Shares of Nintendo Co. Ltd., which owns a stake in the studio that developed the game, have gone parabolic in recent sessions, adding more than $7 billion to the company's market value.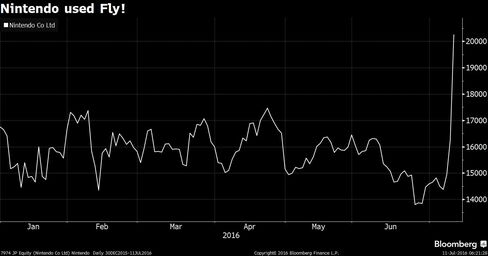 Retaining this #1 gross ranking in the U.S. would add up to 15 percent to Nintendo's net profits, estimates Gibson, while a #5 ranking in Japan could boost profits by up to 10 percent.
"Pokemon Go has gone beyond success to become a phenomenon, topping the revenue grossing charts in the three regions into which it has been launched: the U.S., Australia and New Zealand," added Deutsche Bank AG Analyst Han Joon Kim.
Even the game's biggest initial shortcoming — the propensity for the server to crash — is actually a positive, said Gibson, as this "suggests the game is being overloaded by demand, which is a good thing longer term, assuming it is solved quickly."
But the analyst pointed out that it's a little unclear how Nintendo's financial performance will be buoyed by the success of Pokemon GO.
"We presume that out of every 100 units earned at the App Store, 30 would go to Apple, 30 to [software developer] Niantic, 30 to Pokemon and 10 to Nintendo," writes Gibson. "Hence, we don't think Nintendo will earn much directly from the game. However, Nintendo will earn income from its equity-accounted income of owning 33 percent of Pokemon Company."
But those details might seem trivial in light of the popularity of this initial foray into mobile gaming for Nintendo and the pipeline of products it could develop and deploy going forward.
"If nothing else, Pokemon Go has shown that there are 'dormant' Nintendo fans eager to trial its content for smartphones," writes Kim. "By the fall, Nintendo expects to bring proven content, such as Animal Crossing and Fire Emblem — and the blend of strong IP, Nintendo's distribution power and proven content could lead to financial success."
The analyst sees Pokemon GO as "unlikely to materially impact on Nintendo's financials," but believes the game is a "leadoff hitter" in the category that could herald a "transitional/watershed year" in the offing for the company.
Before it's here, it's on the Bloomberg Terminal.
LEARN MORE