Line Investors Set to Look Past IPO Buzz to Expansion Plans
Japanese mobile-message company priced offer at high end

Shares will debut Thursday in the U.S., Friday in Tokyo
Investors in Line Corp.'s initial public offering will be keen to look past the immediate excitement of the year's biggest technology IPO toward what the company plans to do next.
The Japanese mobile-messaging company, owned by South Korea's Naver Corp., raised $1.3 billion after pricing its offering at the high end of an increased range. Line is selling 35 million shares for 3,300 yen apiece, the company said Monday. They will debut in a dual listing in the U.S. on Thursday and Tokyo Friday.
Line also said it will fully exercise a greenshoe option to sell an additional 5.25 million shares. At the listing price, Line is valued at about $6.9 billion.
Line shouldn't struggle to have a successful first day of trading, according to James Gellert, chief executive officer of Rapid Ratings International Inc., which uses quantitative models to grade securities. Instead, the company needs to make sure the stock is attractive in the long term, by showing it can rev up user growth and new businesses like advertising.
While the company makes about 70 percent of its revenue from its home market, about two-thirds of the 35 million shares it's selling will trade in the U.S. Investors are likely to compare Line to fellow tech stocks Facebook Inc. and Twitter Inc., for which user growth has been a key metric. Line has about 218 million users, though growth has slowed recently, the company said in its IPO prospectus.
For a graphic explaining Line's ecosystem and growth, click here
Stagnating Users
"Once Line is public, the question is, what kind of long-term investor support are they going to get?" Gellert said. "With more stagnating sales and more stagnant monthly active users, they can find themselves looking quite poor compared to companies like Facebook that have been doing well quarter after quarter."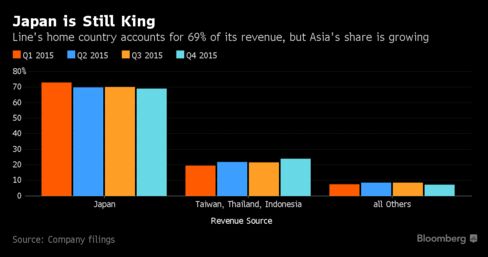 Line is looking to expand its user base beyond its strongest markets of Japan, Taiwan, Indonesia and Thailand, which account for almost three-quarters of its total monthly active user base. Monthly active users in Japan represent almost half the nation's population.
The company plans to use the proceeds of the IPO to spearhead an expansion across Asia and, eventually, the U.S.
So far, the offering is going well. Line increased the marketed price range last week, citing strong investor demand and favorable market conditions.
Some of the factors that have dragged on the rest of the IPO market may benefit Line. A lack of technology offerings in the U.S. could prompt deal-hungry investors to pile into the offering. Market uncertainty after British voters decided to leave the European Union makes a company that garners most of its revenue from Asia more attractive.
Strong investor support suggests the stock may be seen as a haven from Brexit concerns, according to Bloomberg Intelligence analysts Anthea Lai and Jitendra Waral.
"Revenue of Japan's most popular instant messenger may stay resilient amid macro uncertainties," they wrote on July 4.
Just six companies have raised more than $1 billion in IPOs globally this year, compared with 14 that hit that measure in the same period of last year, according to data compiled by Bloomberg. Based on Line's IPO price, it's the third-biggest offering of the year across industries.
Strong Start
For the 37 percent of Line's shares listed in Tokyo, investor favor could sputter after a strong start, according to Naoki Murakami, a minor celebrity among Japan's day trading community who gets paid by brokerages to speak at investor conferences. That would mirror last year's biggest Japanese IPO, Japan Post Holdings Co.
That stock, which was popular with retail investors, surged 26 percent on its debut in November and continued rising through the end of last year, but is now about 12 percent below its IPO price. The decline has mostly mirrored the broader market, with the Nikkei 225 Stock Average down 19 percent over the same period.
"Given its popularity, it feels like it could fly out of the gate," Murakami said of Line. "If the company sticks to just its current business model, we're unlikely to be stunned with huge profits and earnings."
Before it's here, it's on the Bloomberg Terminal.
LEARN MORE