Boeing Stretches Smallest 737 Max to Fight Bombardier Threat
Reconfigured aircraft will now feature 138 berths, Wojick says

Max 7 has won only 65 orders, dominated by Southwest, WestJet
Boeing Co. plans to lengthen the smallest member of its 737 Max single-aisle jet family, acceding to requests from customers Southwest Airlines Co. and WestJet Airlines Ltd., while sharpening competition for Bombardier Inc.'s C Series model.
The redesign of the Max 7 will add 12 seats in a stretched airframe and means the originally planned 126-seat aircraft may never be built, John Wojick, Boeing's sales chief, said in a briefing at the Farnborough Air Show Monday.
Boeing is also looking at lengthening the largest member of its upgraded 737 family, the 180-seat Max 9, to help counter the success of Airbus Group SE's A321neo in the mid-range market. It moved first on the Max 7 because of a deadline for locking in the design in order to achieve market entry in the second quarter of 2019, Wojick said.
The U.S. planemaker has been exploring new derivatives to expand the reach of its two most-profitable aircraft, the 737 and wide-body 777, in a bid to pressure competitors. It's also seeking to stem market-share losses for the narrow-body plane.
Boeing has concluded it could easily stretch both models of the 777X family, an upgraded version of the planemaker's largest twin-engine jet that will debut late this decade, Ray Conner, chief executive of Boeing's commercial airplane unit, told reporters Sunday. The larger of the models, the 777-9, could be expanded for seating comparable to Airbus's A380 superjumbo, he said, confirming an earlier Bloomberg report.
For more coverage of the Farnborough Air Show, please click here.
Boeing's smallest 737 also faces increasing competition from Bombardier's all-new C Series single-aisle aircraft, a model revived by recent orders. The Max 7 redesign would give the U.S. plane eight more seats than the CS300 model of the Canadian jetliner.
Wojick said Boeing opted for a stretched version after consulting with Southwest and WestJet, which wanted better operating economics. The two airlines are the largest customers for the Max 7, accounting for all but five of its 65 orders. Other unnamed customers also encouraged the change, he said.
The Max 8, the first of the new planes due to enter service in 2017, has 162 seats as standard, 24 more than the revamped Max 7 will have, and also comes in a high-density Max 200 version with an extra exit that permits it to carry 200 travelers.
Farnborough International Airshow 2016: Full Coverage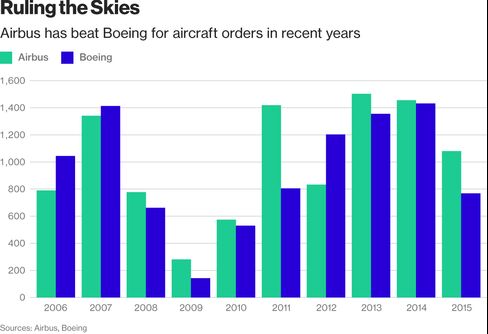 Before it's here, it's on the Bloomberg Terminal.
LEARN MORE