Cameron Says U.K. Needs to 'Tool Up' With Hires for Trade Talks
Government is seeking 300 specialists by end of year

U.K. hasn't discussed 'back of queue' comment with Obama
U.K. Prime Minister David Cameron said the government needs to tap law firms, businesses and foreign talent for negotiators to broker the nation's trade deals as it prepares to officially trigger its withdrawal from the European Union.
Britain's four-decade membership of the EU has left it with a dearth of its own experts, because the bloc coordinates trade negotiations centrally.That's left ministers scrabbling to build teams that can broker new trading arrangements for a post-Brexit Britain, both with EU nations and countries outside the bloc, from the U.S. to China.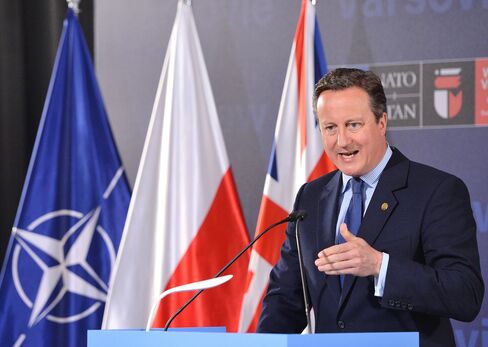 "We're obviously going to have to tool up in terms of preparing for trade negotiations," Cameron told reporters at a NATO meeting in Warsaw on Saturday. "We'll seek the talent wherever we can get it. But don't underestimate the huge amount of talent that there is in British legal firms, in British business."
The U.K.'s vote to leave the EU in a referendum last month sent the pound plummeting, fomented warnings of recession and left the country in political paralysis. Cameron announced his resignation and the opposition Labour Party turned in on itself amid a failed putsch on party leader Jeremy Corbyn.
Business Secretary Sajid Javid said on Friday that the government is seeking to recruit 300 specialist staff, including trade negotiators, by the end of the year.
"I'm sure there will be opportunities to listen to experts from other countries, those that have been doing these things," Cameron said. He said he hadn't discussed with Barack Obama remarks the U.S. president made prior to the EU referendum that Britain would be at the "back of the queue" in terms of negotiating a trade deal with the U.S. post-Brexit.
"Everybody knows now that Britain is now in a process of working out the best end state for leaving the European Union," Cameron said. "But we don't have to wait until that happens until we start scoping out what are the trading and investing and other opportunities, and that's something we need to start with right away."
Before it's here, it's on the Bloomberg Terminal.
LEARN MORE