Yen Rises to Top This Week on Haven Demand as U.S. Payrolls Loom
Japanese currency to climb to 95 yen per dollar by 3Q: TD

Market's 'cautious tone still remains,' says Malayan Banking
Brexit fallout has given investors plenty of reasons to flock to the yen, making it the best-performing major currency this week. Friday could bring another, as markets brace for a closely watched U.S. jobs report.
The yen has climbed 1.9 percent against the dollar since July 1 as an investor flight from U.K. property forced a number of funds to halt withdrawals, sending the pound down the most among developed-market peers. Britain's referendum two weeks ago has fanned concerns about global growth, which suffered a setback after the payrolls report last month showed U.S. employers added just 38,000 positions in May, the fewest since 2010.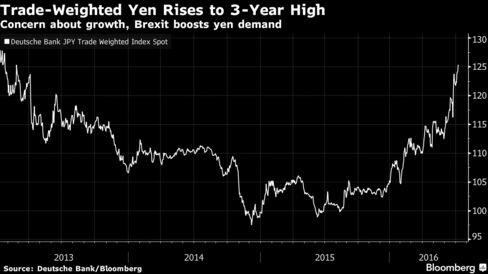 "We have got 95 yen penciled-in as our end-Q3 forecast against the dollar," said Ned Rumpeltin, the European head of currency strategy at Toronto Dominion Bank in London. "The yen is benefiting both from a pervasive sense of risk aversion as well as a more general concern over global growth. The former may be amplified by repatriation inflows by Japanese investors, but we're waiting to see real evidence of that emerging."
The yen advanced 0.3 percent to 100.49 per dollar as of 7:01 a.m. in New York, gaining for a fourth day. It climbed to as high as 99.02 per dollar for the first time since 2013 on June 24, in the immediate aftermath of the U.K. vote to quit the European Union. Japan's currency appreciated 0.3 percent to 111.20 per euro.
2016's Worst
The pound rose 0.5 percent to $1.2976. That trimmed its weekly decline to 2.2 percent.
The median estimate for Friday's jobs data is for a 180,000 increase in hiring in June. Futures signal a 12 percent chance of the Federal Reserve raising interest rates this year, down from 76 percent at the start of June, before the release of the May payrolls report.
"The cautious tone still remains, so there will be continued support for the yen," said Saktiandi Supaat, head of foreign-exchange research at Malayan Banking Bhd. in Singapore. "If the payrolls number falls below the 100,000 range, it will support most safe-haven currencies."
Before it's here, it's on the Bloomberg Terminal.
LEARN MORE