New Zealand Rate-Cut Bets Pared After RBNZ Warns on Housing
Odds on Aug. 11 rate reduction drop to less than 50 percent

Why feed someone cake when you're telling them to diet?: ANZ
Traders pared bets on a New Zealand interest-rate cut next month after the central bank said further reductions could pose a risk to financial stability by throwing fuel on an overheated housing market.
The odds of an Aug. 11 cut in the official cash rate dropped to 40 percent in Wellington Friday from as much as 70 percent earlier this week. That follows comments from Reserve Bank of New Zealand Deputy Governor Grant Spencer late Thursday that the bank needs to carefully consider risks to financial stability when deciding the future path of monetary policy.
"We now expect the RBNZ to hold fire and leave the OCR unchanged in August," ANZ Bank New Zealand chief economist Cameron Bagrie said Friday, citing the housing boom in changing his call from a cut. "Why feed someone chocolate cake when you are telling them to diet?"
The central bank's dilemma is that while record-low borrowing costs are stoking housing demand, general inflation of just 0.4 percent remains well below its 1-3 percent target. To make matters worse, doubts about lower interest rates are driving up the New Zealand dollar and suppressing import prices, making attainment of the 2 percent target midpoint even more elusive.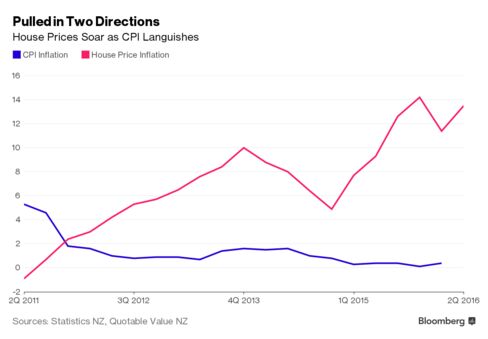 The New Zealand dollar trade-weighted index climbed as high as 77.92 Friday, the highest since May last year. The RBNZ in June assumed the index would average 71.6 in the third quarter. The currency traded at 72.7 U.S. cents at 1:46 p.m. in Wellington, up from 71.50 cents before Spencer's speech.
"Given the currency's move, the chance of an August cut has just gone up," said Stephen Toplis, head of research at Bank of New Zealand in Wellington. "The strength of the New Zealand dollar will have to dominate the RBNZ's thinking on interest rates if the bank is to remain consistent with its past commentary on inflation."
Thirteen of 15 economists surveyed by Bloomberg tip the RBNZ will lower the OCR by a quarter point to a fresh record low of 2 percent next month. Odds of a cut rose after the Brexit vote stoked concerns of destabilized global financial markets and as the Kiwi dollar climbed to a 14-month high.
Yet still cheaper borrowing costs risk adding to a housing boom that saw New Zealand house prices jump 13.5 percent in the year through June. Prices in Auckland have surged 78 percent since 2007.
Trade-Off
Spencer on Thursday said the RBNZ is unable to raise interest rates to curb housing demand.
Rate rises "would risk driving CPI inflation below the target range over the medium-term," he said. "Conversely, further reductions in the OCR could pose a risk to financial stability through their effect on credit growth and house prices. While the outlook for CPI inflation will ultimately determine the future path of monetary policy, the trade-off against financial stability risk needs to be carefully considered."
Spencer outlined the RBNZ's macro-prudential policy options, which include extending an existing limit on lending to investors in Auckland to the rest of the country, and further analysis on use of debt-to-income ratios and capital overlays.
He said the bank may tighten lending rules by the end of the year, but also urged the government to consider further reducing the tax advantage of investing in residential property, and to review whether immigration policy can be changed to curb population pressure.
Prime Minister John Key reiterated Friday he wants the RBNZ to move quickly on using its so-called loan-to-value ratios to curb lending.
"We're not critical of the bank, but we're just simply saying it's not like they don't understand LVR restrictions," he told Fairfax Media. "We gave them that tool in the toolbox, they know exactly how to do it, and they can do it very quickly."
Before it's here, it's on the Bloomberg Terminal.
LEARN MORE