Europe's East in Line for Hot Summer That Sidesteps the West
Poland to get heat that's already triggered power output curbs

German solar power output to fluctuate below recent peaks
Hotter than normal weather in eastern and southern Europe this summer is set to boost power demand for air conditioning as countries in the north and west will be cooler than usual.
Six out of eight forecasters surveyed by Bloomberg say temperatures in July and August will be split across Europe, with those in east and south expected to be above average. The hottest nations will be Italy and the Balkans, while Greece will get drought conditions throughout much of the summer, according to Tyler Ros, a meteorologist at AccuWeather Inc. in State College, Pennsylvania.
Hot weather in eastern Europe this month is already affecting power stations in Poland, with utility Enea SA curbing output at a coal-fired plant on the Vistula river because the temperature of its cooling water was too high. Central Europe's biggest economy has already secured emergency electricity imports from its neighbors to avoid a repeat of last summer's power shortages caused by unusually hot weather.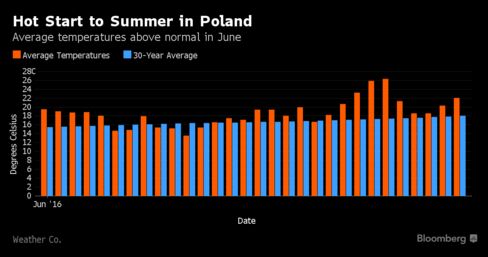 "East and north-east parts of Europe are likely to have a warm summer," Matthew Dobson, an energy meteorologist at Meteogroup U.K. Ltd., said by e-mail. "A cool summer seems likely over northwest Europe into the west half of Scandinavia, with the U.K. seeing cool westerly wind flows over the next couple of weeks and no sign of sustained warmth."
Polish power prices rose by a record 21 percent last month as temperatures rose 2 degrees Celsius (3.6 Fahrenheit) above the 30-year average, and Warsaw had the most days at or above 32 Celsius since 1976. Month-ahead power reached 204 zloty (45.98 Euros) a megawatt-hour on June 29, the highest since November 2011, before easing to 180 zloty on Friday, according to broker data compiled by Bloomberg. That's still more than 2 percent above the five-year average for the time of the year.
Increased Consumption
Electricity demand in the south is more sensitive to increases in temperatures in summer than the north, according to Bruno Brunetti, a director of electricity at Pira Energy in New York. In July, 1 degree above average will increase consumption by 1 gigawatt in Italy, he said. A gigawatt is enough to power 2 million European homes.
Temperatures in Italy are forecast to be about 1 degree above the 10-year average next week and 2 degrees higher in Slovakia and Bulgaria, according to The Weather Co. data on Bloomberg.
Dry and above average temperatures for the rest of the summer "might be a problem in Croatia and Serbia," Cagdas Ozan Ates, head of cross-border power trading at Danske Commodities in Aarhus, Denmark. "We don't see too much of risk for spikes, except for a few occasions that might occur on some peak hours for some very hot days."
El Nino
A cool north and west is consistent with a transition from El Niño, the weather phenomenon that releases heat from the Pacific, to a cooling La Niña as there is now, Michael de Villiers, a meteorologist at The Weather Co., said by e-mail.
"The fear of a big heat wave in Germany is gone, that's why we have seen the easing in power prices for August and weeks in July," Uwe Friedriszik, head of power trading at Energieunion GmbH, said by phone from Schwerin, Germany.
German power prices for August lost about 1% this week to 26.85 euros per megawatt hour, broker data show. The contract gained 18 percent in the second quarter.
German solar output will probably fluctuate more than last summer, according to Meteogroup's Dobson. Generation peaked at 26.2 gigawatts in June, just shy of the record 26.3 gigawatts in May, according to European Energy Exchange AG data.
Daily peaks of as much as 25 gigawatts will alternate with "cloudier and more unsettled spells" and highs nearer to 15 gigawatts, Dobson said.
Before it's here, it's on the Bloomberg Terminal.
LEARN MORE