To JPMorgan Asset, Treasuries Offer Escape From Negative Yields
Almost $10 trillion of sovereign bonds yield less than zero

Growth outlook to 'perpetuate extremely low yields': Stubbs
The pile of negative-yielding bonds, which swelled to almost $10 trillion globally since the U.K.'s vote to leave the European Union, is driving one of the world's biggest money managers to seek refuge in U.S. and Australian debt.
JPMorgan Asset Management, which oversees $1.7 trillion, also favors investment-grade and high-yield corporate debt, according to David Stubbs, a global market strategist at the company in London. He sees slowing growth and loose monetary policies across the developed world suppressing yields.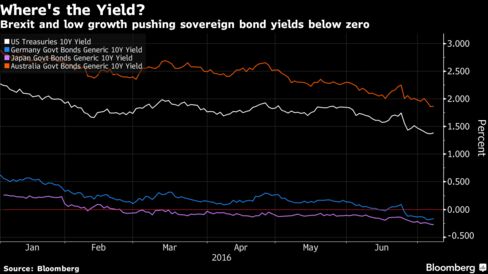 Even after a surge in demand pushed Treasury 10-year yields to a record low, they still have a premium of about 1.5 percentage points over similar-maturity German bonds, which have a negative yield, meaning they virtually guarantee a loss for buyers who hold them to maturity. Australian bonds with a similar due date pay an extra 2 percentage points in yield compared with bunds.
"There are places in the world with a positive yield in the 10-year level," Stubbs said in a press briefing Wednesday. "The U.S. and Australia are two of our favorites. Some portion of the investment-grade and high-yield as well. The fundamental mismatch of supply and demand for these core assets is going to remain in place."
Benchmark Treasury 10-year note yields rose two basis points, or 0.02 percentage point, to 1.39 percent as of 10 a.m. in London, according to Bloomberg Bond Trader data, having set a record-low of 1.318 percent Wednesday. The 1.625 percent security due in May 2026 fell 4/32 or $1.25 per $1,000 face amount, to 102 6/32. Australia's 10-year bond yield was at 1.87 percent, having been as low as 1.84 percent on Wednesday.
More than half the euro area's sovereign bonds yields are below zero, with French yields going negative as far out as nine years this week. Japan's 20-year yield also went negative, while similar-maturity German securities are about 10 basis points away from doing the same.
In all, $9.8 trillion, or almost 40 percent, of securities in the Bloomberg Global Developed Sovereign Bond Index yield less than zero.
Bonds have extended their 2016 gains on speculation the June 23 British vote to leave the world's largest trading bloc will damp global growth, driving demand for the safest assets. The gains have reached levels that have got some investors, including Janus Capital Group Inc.'s Bill Gross, asking if the bonds are now too risky to hold.
The risks posed by some government bonds is leading to "renewed interest" in cash and gold, Stubbs said.
Before it's here, it's on the Bloomberg Terminal.
LEARN MORE