Post-Brexit U.K. Spawns M&A Bargain Hunters, Pound Evacuees
Clients are asking bankers to scour the FTSE for deals

'The money is there' for deals like Melrose's Nortek purchase
Tourists aren't the only ones flocking to Britain for bargains.
In the wake of the country's June 23 vote to leave the European Union, the U.K.'s stocks and currency dropped, presenting an attractive prospect to global buyers looking for cheap assets and giving local businesses an incentive to reduce their exposure at home.
Bloomberg.com: Brexit Fallout indicators
"Many euro and dollar denominated funds are seeing the weakness of the pound delivering a gift-wrapped buying opportunity, particularly those who have been in divestment mode over the last few years," said Guy Norman, head of corporate for Clifford Chance LLP.
While the volatile markets have killed some deals and thrown others into doubt, bidders willing to take the risk may be rewarded with deep discounts.
South African retailer Steinhoff International Holdings NV saw its chance. The company, which had made an unsuccessful takeover offer for British discount chain Poundland Group Plc, scooped up 1.3 million shares of its target on June 24 at a more than 9 percent markdown to the previous day's price.
Qatar Airways Ltd. and Standard Life Plc, two of the top investors in British Airways owner IAG SA, are considering raising their stakes, people familiar with the matter said last week. The company's shares have fallen more than 30 percent since the Brexit vote.
U.K. M&A
It's a ray of hope after an exceptionally abysmal start to the year for dealmaking in the U.K., following the uncertainty before and the shock after the country's decision to leave the EU. Mergers and acquisitions of or by British companies fell 60 percent in the first half of the year, according to data compiled by Bloomberg.
"We've had strategic investors calling to revisit deals that they were looking at last year but thought the companies were too expensive," said Raj Karia, head of corporate, mergers and securities for Europe, the Middle East and Asia at Norton Rose Fulbright LLP in London.
U.S. companies and private equity firms have asked advisers to scan U.K. companies on the FTSE 250 Index, which has dropped 8.3 percent since the vote, to identify bargains, according to one banker who is speaking with potential buyers. Private equity firms have been searching for failed auctions to see if there's room to swoop in, the person said, asking not to be identified discussing client dialogue.
Shareholders of some companies that saw significant selloffs in the last two weeks are also considering buying their own shares in take-private deals, said a separate person, who asked not to be named as the details aren't public.
For commentary on Brexit's impact on M&A, click here.
Buying Opportunities
As many as half of the potential targets that Ontario Teachers' Pension Plan monitors could become more open to investors post-Brexit, said Jo Taylor, head of the firm's EMEA operations. The company, with about C$171 billion ($131 billion) in assets under management, will likely look at how the pricing of potential sales of businesses including National Grid Plc's domestic gas grid and German metering business Techem GmbH develops, he said.
"There may be some buying opportunities" as prices come down and companies and private equity firms seek acquirers and minority investors, Taylor said in an interview Thursday.
Volatility
That doesn't mean the surge in volatility and the uncertainty that's accompanying the low prices won't also discourage some deals, especially in the short term. U.S. and Asian investors may wait to see how negotiations with the EU play out, as well as the impact on economic growth.
Unstable markets can make it more difficult for buyers and sellers to come to an agreement, potentially hurting M&A in the immediate aftermath of the vote, Peter Tague, Citigroup Inc.'s co-head of global M&A, said in an interview.
"It is too early to call the long-term impact of Brexit on the M&A market, but not the near-term effect -- which is clearly negative," Tague said. "Uncertainty, which characterizes almost every aspect of the legal, political and market implications of Brexit, weighs heavily on M&A transactions where finding common ground between buyer and seller can be difficult even in a stable environment."
Tague said in a previous interview with Bloomberg TV that he was working on two transactions that fell apart the weekend after the vote. Deutsche Boerse AG's plans to buy London Stock Exchange Group Plc are being thrown into doubt by German regulators who oppose a plan to put the headquarters for the combined exchanges in London because the city will soon be outside of the EU. Telefonica SA abandoned plans for a potential initial public offering of its U.K. mobile operator O2 after the referendum, people familiar with the matter said.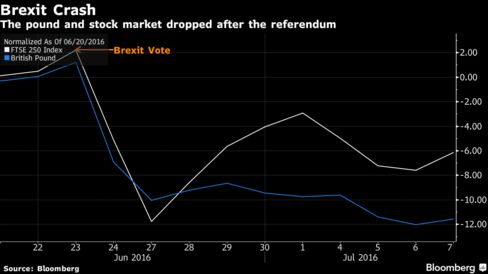 'Money is There'


Uncertainty aside, there's still liquidity and a willingness to fund the right deals, said Nicholas Hall, head of U.K. equity capital markets at JPMorgan Chase & Co.
Brexit's potential ramifications for the economy mean it's also a good time for U.K. companies to buy international operations. British turnaround specialist Melrose Industries Plc announced plans to buy U.S. ventilation-fan maker Nortek Inc. for $2.8 billion in the first major transaction since the Brexit decision. The investment company's shares rose after the statement, surging 46 percent, the most since 2003.
"The money is there if the idea makes sense," said Hall, whose bank was one of Melrose's advisers. "There is a huge amount of liquidity in shareholders' hands."
Shares in U.K. cigarette maker Imperial Brands Plc, which has long been the subject of takeover speculation, have climbed since Brexit on speculation the decline in the pound will prompt bids. Twenty-First Century Fox Inc. could take advantage of the weaker pound to bid for the rest of TV broadcaster Sky Plc it doesn't own, Citigroup analyst Jason Bazinet said in a note this week.
Before it's here, it's on the Bloomberg Terminal.
LEARN MORE