Personal Wealth Shrinks in Europe's Richest Countries: Chart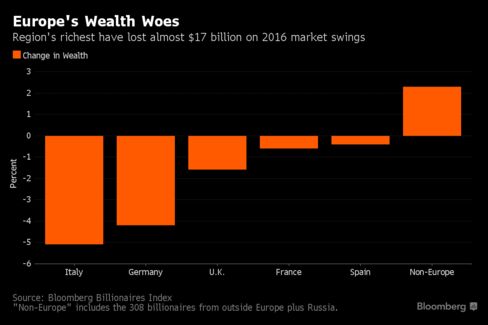 The first half of 2016 has not been good to the richest people in western Europe. Over the past six months, the wealthiest citizens of Italy, Germany, Britain, France and Spain -- Europe's biggest economies -- have had almost $17 billion erased from their combined net worth as the Stoxx Europe 600 Index fell 9.8 percent. That compares with a 2.3 percent gain for the 308 non-Europeans ranked among the world's 400 richest on the Bloomberg Billionaires Index, with the best performance belonging to billionaires in Latin America and Russia.
Before it's here, it's on the Bloomberg Terminal.
LEARN MORE