May Faces Leadsom in Battle to Follow Cameron as British PM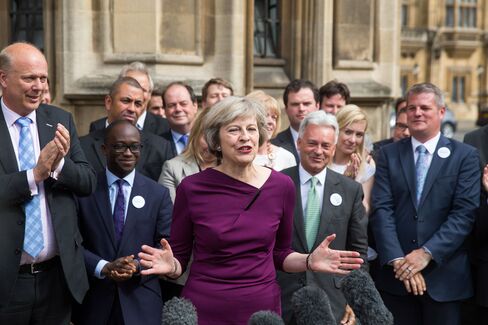 Gove eliminated from shortlist in final vote among lawmakers

Conservative Party to announce leadership winner on Sept. 9
Theresa May and Andrea Leadsom will face off in an all-female battle to succeed David Cameron as U.K. prime minister and lead negotiations to take Britain out of the European Union.
May, the home secretary, won 199 votes in the second-round ballot of Conservative Party lawmakers on Thursday and Leadsom, energy minister, took 84. Justice Secretary Michael Gove was eliminated from the contest after coming last with 46 votes.
Twitter: Michael Gove MP on Twitter
Tory party members nationwide now face a choice between the relatively inexperienced Leadsom and May, who has spent six years in a job traditionally known as a graveyard of political careers. Whoever wins, Britain is set to have its second female prime minister. The first one, Margaret Thatcher, left office more than quarter of a century ago. The winner will be declared on Sept. 9.


"Now is the time for me and my team to take my case out to the party members in the country," May said after the result. "We need proven leadership to negotiate the best deals for leaving the European Union, to unite our party and our country."
'Crying Out'
Leadsom, who has the backing of former London Mayor Boris Johnson, is pitching herself as the pro-Brexit candidate. The label may be valuable in the run-off as Tory supporters tend to be more Euro-skeptic than the general public. May sided with the "Remain" camp in the referendum, but kept a low profile.
Bloomberg.com: Brexit Fallout indicators
For a related story about May's track record, click here.
"It's the establishment versus the people," said Peter Bone, one of Leadsom's supporters. "Across the board, people are crying out for anti-establishment politicians."
The bookmaker Ladbrokes declared May the "red-hot favorite" to win the contest, giving her odds of 1/5, meaning a successful 1-pound bet would yield 20 pence of winnings plus the original stake. Leadsom was given odds of 7/2.
"We want the leader of the party to be a prime minister in a difficult time and Theresa May is the only candidate," Leadsom's boss, Energy Secretary Amber Rudd, said in a Channel 4 News interview. Leadsom is "a very good junior energy minister, but hasn't anywhere near the sort of experience necessary."
'Slice of Britain'
A private poll commissioned by Leave.EU, one of the groups that campaigned for Brexit, suggested the home secretary may not be a shoe-in. It found Leadsom was favored by 56 percent of its Conservative supporters, compared with 44 percent for May. The group, whose private poll on referendum day correctly predicted the eventual outcome, didn't provide a sample size.
There are about 150,000 Conservative Party members, who will now vote in a postal ballot. Speaking to the BBC, John Curtice, professor of politics at Stratchlyde University, described them as "a very distinctive slice of Britain."
For the first time, they will be electing a prime minister, instead of simply a party leader. In 2001, the first time rank-and-file Tories were given a vote on their leader, they rejected the former Chancellor of the Exchequer Ken Clarke in favor of Iain Duncan Smith, largely on the grounds that Duncan Smith shared their hostility toward the EU. Tory lawmakers forced him out two years later, and replaced him without a contest.
Big Decisions
The victorious candidate will inherit a country reeling from the vote to leave the EU as readings of business confidence suggest the economic shock waves are already being felt. She will have to decide when to trigger the formal start of two years of exit negotiations with the EU, manage the trade-offs involved and lead a team of negotiators to establish new commercial relationships with countries around the world.
Neither woman has set out much detail of how they would carry out the divorce from the EU, beyond May saying Britain should proceed slowly and Leadsom arguing it can be done quickly. May has stressed the important of maintaining some access to the single market.
Their priorities for managing the economy are equally unclear, though May responded to the Brexit vote by warning that Britain should no longer try to meet its target of a budget surplus by 2020, a view echoed by Chancellor of the Exchequer George Osborne the next day.
'Major Speech'
Leadsom, in a 12-minute "major speech on the economy" on Thursday, appealed to people and the markets to take a more optimistic view of Brexit.
A surprise entry in the race after her performances in debates before the referendum were well-received by grassroots members, Leadsom has spent this week defending herself against claims she has exaggerated her banking experience.
After questions about her resume on Thursday, she told the BBC that she ran "huge teams of people" at Barclays, even as people who worked at the bank questioned her record.
One former executive, who worked at Barclays at the same time and spoke on condition of anonymity, contradicted that account and said a mid-level manager. Another person who works at Barclays said he couldn't find anyone who remembered working with her. A spokeswoman for Barclays declined to comment.
In an interview with ITV News, Leadsom revealed her position on a number of issues. For example, she would have preferred marriage to remain "a Christian service for men and women who wanted to commit in the eyes of God." She's also committed to holding a vote to repeal a ban on hunting foxes with dogs and would do an early review of Britain's "enormously expensive" plan to build a high-speed rail link from London to northern England.
Before it's here, it's on the Bloomberg Terminal.
LEARN MORE