Laura van Driem has a message for bankers facing exile from London as the U.K. prepares to exit the European Union: Congratulations! Your life is about to get better.
Four years ago, Van Driem sold her 590 square-foot (55 square meter) two-bedroom apartment in Wapping, east London, for 500,000 pounds ($650,000) and bought the same space in Amsterdam for half the price before moving to a house that's a 15-minute bike and ferry ride to the city center.
"London is the best city in the world and nowhere really comes close to it; but for family life, I couldn't imagine living there," said Van Driem, 37, a real estate broker.
So what would the average London house price, 550,000 pounds, or about 640,000 euros ($710,000), buy in Dublin, Paris, Amsterdam and Frankfurt, among the cities scrambling to attract some of London's banking business post-Brexit?
Dublin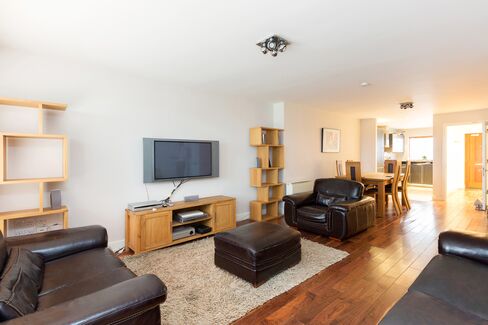 In the days after the June 23 Brexit vote, U.K. searches of the Irish real estate website Myhome.ie rose 35 percent. Browsers would have found the Irish capital in the midst of another mini-house boom. It's not cheap anymore.
A three-bedroom family home in Sandymount, near the city and beach and beloved of James Joyce, would set you back 1.3 million euros. Closer to your budget might be a 600,000-euro 2-bedroom apartment in the docklands with panoramic views, close to Google and Facebook Inc.'s European headquarters. In the same neighborhood, 550,000 euros buys a three-bedroom, 1,270 square foot apartment on Gallery Quay, a short walk from the International Financial Services Center, home to the likes of Citigroup Inc.
And if you need to move home, it can be rented out for about 2,700 euros a month.
Amsterdam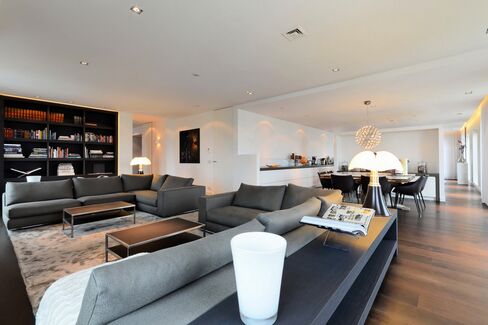 The Dutch capital has fully recovered from the housing crisis, and now a two-bedroom houseboat with a deck floating on the Amstel river sells for 650,000 euros. Don't be fooled into thinking houseboat means camping -- this place comes with a luxury kitchen and heated floors. Added bonus: from here, you can row to work at the Dutch Central Bank.
For the London banker missing Canary Wharf, a 381 square-meter apartment on the 27th floor of a tower in the city's financial district awaits. The place, which boasts a media room, a private gym and a parking spot big enough for two SUVs, will set you back 3.8 million euros.
Frankfurt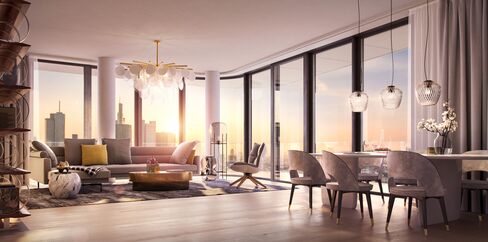 Germany's financial capital, and the home of the European Central Bank, is in the middle of a population boom, with neighborhoods like Riedberg in Frankfurt's north and Europa quarters in the west, sprouting up.
In Europa quarters, a three-room luxury apartment with a spacious balcony, a skyline panorama and a concierge service is going for 613,900 euros. The same money will buy you a 1,872 square foot 3-story townhouse with underfloor heating, carport, outdoor terrace and garden in Riedberg.
Digging a bit deeper into your pocket, a 1,776 square-foot luxury apartment in the upmarket Westend quarters with two balconies and 13-feet-high ceilings has an asking price of 1.5 million euros.
Paris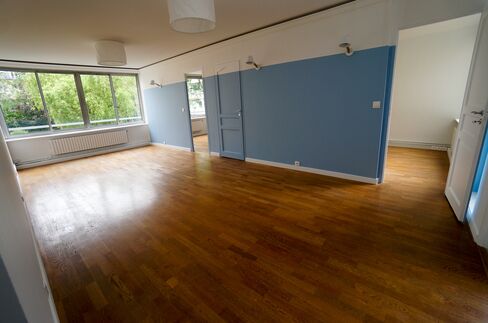 The Paris home market has just started recovering from a slump that began in 2011. For 650,000 euros, you can get a renovated 635-square-foot 1-bedroom apartment 10 minutes from the Louvre museum with high ceilings and a parquet floor, or a 614 square-feet apartment in a brick building at the foot of the Basilica of the Sacred Heart in romantic Montmartre.
Bankers with 2 million euros to spend can buy a renovated 1,200 square-feet artist studio near Saint Germain des Pres' art galleries and the iconic cafes Les Deux Magots and Café de Flore in an Art Deco building, with 2 bedrooms and bathrooms.
If you're ready to move towards the west of Paris, near the Neuilly-sur-Seine suburb, and have 2.1 million euros to spend, how about a 2,570 square-feet apartment with three living rooms in a 1930 building?
--With assistance from Celeste Perri, Angela Cullen and Ania Nussbaum.
Before it's here, it's on the Bloomberg Terminal.
LEARN MORE