Leadsom Dials Back Carney Criticism After 'Great Job' Since Vote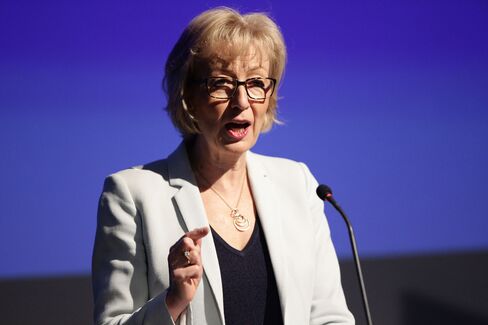 Leadsom says Carney should 'absolutely' stay as governor

Lawmakers may want to study BOE's impartiality, she says
Andrea Leadsom, a candidate to be Britain's next prime minister, said Bank of England Governor Mark Carney should keep his job even as she once again criticized him for not showing impartiality during the referendum campaign.
While the energy minister said Carney should "absolutely" remain in office, she suggested fellow lawmakers on parliament's Treasury Committee may want to examine whether the central bank showed bias before last month's vote on the U.K.'s European Union membership.
"Governor Carney in my opinion should not have forecast what households and investors might do," Leadsom told Channel 4. "That was the bit I took issue with because it was not balanced."
Leadsom, who was part of the "Leave" campaign, is among a trio of Conservative party lawmakers left in the race to succeed Prime Minister David Cameron as leader.
"There may well need to be a Treasury Committee look at whether impartiality was upheld," she said.
During the campaign, Leadsom accused Carney of making an "incredibly dangerous intervention" and risking financial stability by warning that a vote to leave the EU could provoke a recession. The governor has since said the BOE is a "technocratic" institution and that part of his role to explain risks to the outlook.
On Thursday, Leadsom praised the governor for doing a "brilliant job" in reassuring financial markets since the referendum.
"He's done a great job with that," she said. "All credit to him."
Before it's here, it's on the Bloomberg Terminal.
LEARN MORE