Even Owners of Blue-Chip Stocks Can't Sleep Soundly Anymore
Traders who hold megastocks like Procter & Gamble Co., Exxon Mobil Corp., or Microsoft Inc. at the end of the trading day are now tossing and turning in their beds at night in a manner typically reserved for peers who own smaller-cap equities.
"The market has almost completely recovered from the Brexit dive. Does that mean it's risk-on again?" writes Ana Avramovic, equity strategist at Credit Suisse AG. "When it comes to large-cap traders and overnight risk – the answer seems to be no."
Typically, small-cap stocks, like those in the Russell 2000 index, experience more volatility overnight than their large-cap counterparts. However, the strategist observes that the size of overnight moves for the S&P 500 index has risen to eclipse those of the Russell: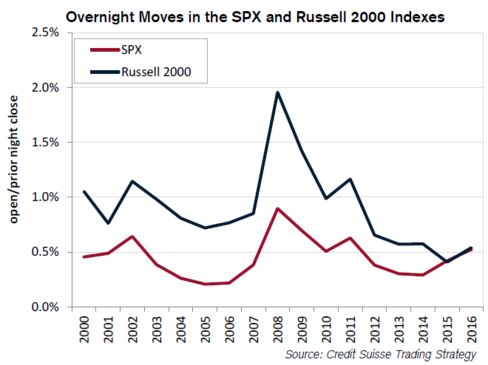 For investors, the global macroeconomic backdrop in recent years has been jarred by such events as the sovereign debt crisis in Europe, a devaluation of China's currency, and Brexit.
As the financial system has grown more interconnected and multinationals' revenue streams more global in nature, the impact these events have on large-cap U.S.-domiciled stocks has increased.
In another testament to traders' distaste for holding stocks in the S&P 500 index overnight, Credit Suisse notes that the average share of the day's volume included in the market-on-close orders has risen to 9.8 percent from 8.4 percent over the past two years in an extension of a longer-term trend.
"Large-cap traders seem to be reacting to this environment with a 'finish the ticket' mentality," concludes Avramovic.
Before it's here, it's on the Bloomberg Terminal.
LEARN MORE