Biggest Platinum Union Wants 47% Wage Rise for Least-Paid
AMCU seeks minimum monthly wage of 12,500 rand for least-paid

South African union led five-month strike by 70,000 in 2014
The biggest union at the South African operations of the world's three largest platinum producers is seeking pay increases of 47 percent for the lowest-paid workers in the industry.
The Association of Mineworkers and Construction Union want a minimum monthly basic wage of 12,500 rand ($852) for the least-paid employees at Anglo American Platinum Ltd., Impala Platinum Ltd. and Lonmin Plc, union President Joseph Mathunjwa told reporters Thursday. It wants a 15 percent increase for higher-skilled miners. The annual inflation rate was 6.1 percent in May. Basic pay doesn't include any allowances for housing, medical insurance, pensions or bonuses.
The talks come at a time when Africa's most industrialized economy is projected to grow at the slowest rate since a 2009 recession and has an unemployment rate of about 27 percent. Membership of the AMCU accelerated in 2012 after strikes and the killing of 34 workers by police in a single day at Lonmin's Marikana mine. A wage demand of 12,500 rand a month sought by protesters who were shot became a rallying cry for the labor group.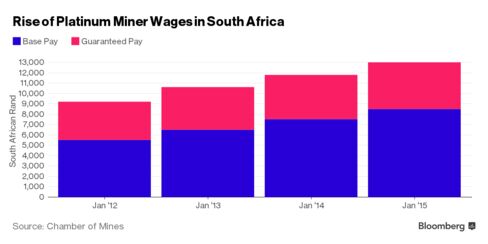 "The failure of the South African economy to industrialize, diversify and beneficiate mining commodities has postponed opportunities for employment creation," Mathunjwa said, referring to local processing of mineral ores. "The AMCU struggle is for a living wage in the mining sector that addresses the cost of living."
The union led a walkout by at least 70,000 miners in 2014 that cost the companies 23.9 billion rand in revenue and workers 10.6 billion rand in wages. Amplats, as the largest of the three miners is known, has embarked on at least a third round of job cuts in as many years in an effort to weather a slump in prices that is weighing on producers' margins. The price of the metal has declined 42 percent since August 2011, which, together with the effects of the stoppage, prompted Impala and Lonmin to raise funds from shareholders last year.
For entry-level underground workers in platinum, the average basic monthly pay was about 8,500 rand in 2015, according to the Chamber of Mines. Guaranteed wages -- which include holiday pay, housing allowances as well as medical and retirement benefits -- increased 41 percent from 9,200 rand a month in 2012 to 13,000 rand in 2015. That excludes production and safety bonuses which make up a large proportion of an employee's monthly remuneration.
Displacing NUM
The AMCU in 2013 displaced the National Union of Mineworkers as the largest representative of employees at the three biggest platinum miners. The NUM is demanding a 20 percent increase and won't settle for anything less than double digits, General Secretary David Sipunzi said June 3.
The AMCU wants a one-year wage agreement, but is flexible. The previous pact was a three-year arrangement that ended in June. Talks with Impala start on July 12, while negotiations at Lonmin start a day later. At Anglo American, they commence on July 14.
Before it's here, it's on the Bloomberg Terminal.
LEARN MORE