Sports Business
Salary Madness: These So-So NBA Players Just Scored a Bigger Payday Than Nike's CEO
Thanks to the league's new TV deal and a 35 percent jump in the salary cap, there are more lucrative free-agent deals than ever.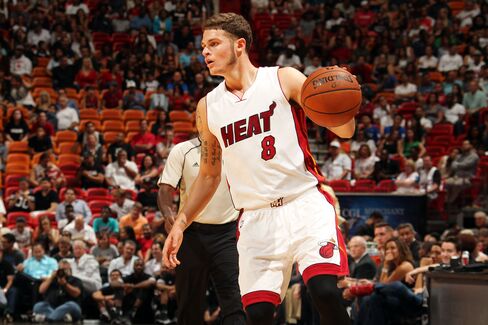 It's not surprising that pro basketball players are cashing in on the 35 percent increase in the NBA's salary cap for the 2016-17 season.
But take a moment to gawk at the cash.
The increase—the biggest ever, from $70 million to $94.1 million1—has led to the richest NBA contract ever (five years, $153 million) for Memphis point guard Mike Conley. The agreements of Conley and Kevin Durant, who rocked the sport on Monday by announcing his decision to play for the Golden State Warriors in a two-year, $54.3 million deal, are well-known.
Here are nine of the contract agreements you might not have heard about.2 These players will now make more annually than the $9.1 million Nike Chief Executive Officer Mark Parker earned in salary last year (not counting his non-cash earnings, such as stock and other options), according to Bloomberg data.
Or look at it this way, for a sense of scale, as you whistle at the deals below: Stephen Curry himself, the first unanimous Most Valuable Player in NBA history, signed a four-year, $44 million contract extension in 2012. In the regular season, Curry averaged 30.1 points, 6.7 assists, and 5.4 rebounds in 34.2 minutes per game, making 50.4 percent of his shots from the field and 45.4 percent behind the three-point line.
Or this way: More than 125 NBA players averaged 10 or more points per game last season, something none of the players on this list did.
Timofey Mozgov
Four-year, $64 million agreement with the Los Angeles Lakers
Mozgov has career averages of 6.9 points and 5.0 rebounds in 18.2 minutes per game, but the 7-foot-1 center showed flashes of dominance in the 2015 playoffs before seeing his role diminish with Cleveland last season. In the 2015 NBA Finals, Mozgov averaged 14.0 points and 7.5 rebounds in 28.2 minutes per game, including a 28-point outing. The 275-pounder has played six NBA seasons.
Courtney Lee
Four-year, $50 million agreement with the New York Knicks
An eight-year NBA veteran, Lee averaged 9.6 points last season—right on par with his career average—in 29.5 minutes per game for Charlotte and Memphis. The shooting guard is known for his perimeter defense but is also a 38.4 percent three-point shooter for his career. Lee played in the NBA Finals as a rookie for the Orlando Magic in 2009.
Tyler Johnson
Four-year, $50 million offer from the Brooklyn Nets
A guard who played for Fresno State in college, Johnson averaged 7.4 points in 21.6 minutes per game in his first two NBA seasons. His potential, despite going undrafted and starting his career in the NBA Development League, was enough to earn a lucrative offer from the Nets, which includes a major salary increase for the final two years of the deal. After Thursday, Johnson's current NBA team, the Miami Heat, will have three days to match Brooklyn's offer.
Solomon Hill
Four-year, $48 million agreement with the New Orleans Pelicans
A 6-foot-7 forward, Hill averaged 4.2 points in 14.7 minutes per game for the Indiana Pacers in 2015-16. But in Indiana's playoff series against Toronto, he averaged 7.7 points per game and made 57.9 percent of his three-pointers. With Indiana star Paul George hurt in 2014-15, Hill had his best season, starting 78 games and averaging 8.9 points per contest. The former Arizona Wildcat is a career 40.9 percent shooter in three seasons, including 32.5 percent from three-point range.
Austin Rivers
Three-year, $35 million agreement with the Los Angeles Clippers
The No. 10 pick in the 2012 NBA Draft, Rivers averaged 7.4 points on 40.8 percent shooting in his first four NBA seasons. Last season, playing for the Los Angeles Clippers and Doc Rivers, the team's head coach and his dad, Rivers averaged 8.9 points in 21.9 minutes per game. The former Duke guard will turn 24 in August.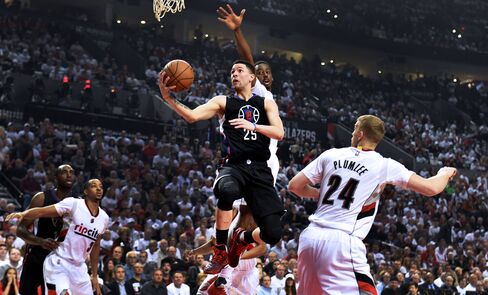 Jon Leuer
Four-year, $42 million agreement with the Detroit Pistons
Leuer just completed his fifth NBA season, a career-best campaign in which he averaged 8.5 points and 5.6 rebounds in 18.7 minutes per game for Phoenix. For his career, the former Wisconsin forward has averaged 5.6 points in 13.7 minutes per game. Leuer is a career 37.5 percent three-point shooter and can stretch defenses with his perimeter shooting.
Jared Dudley
Three-year, $30 million agreement with the Phoenix Suns
Dudley, entering his 10th season in the NBA, still garnered a substantial offer from Phoenix as a potential starter. Last season for Washington, the forward averaged 7.9 points per game and started 41 games. He shot 42.0 percent from three-point range. The former Boston College player previously spent four full seasons in Phoenix, including in 2011-12, when he averaged a career-high 12.7 points per game. Dudley's career average is 8.4 points in 24.3 minutes per contest.
Matthew Dellavedova
Four-year, $38 million offer from the Milwaukee Bucks
Cleveland's backup point guard jumped into the spotlight in the 2015 NBA Finals after Kyrie Irving was injured, then averaged 7.5 points per game for the 2016 champions before earning the offer from Milwaukee. ESPN reported that Cleveland won't match the offer. Known as a tenacious defender, Dellavedova averaged 5.7 points and 3.4 assists in 21.0 minutes per game during his first three NBA seasons.
Dwight Powell
Four-year, $37 million agreement with the Dallas Mavericks
A 6-foot-11 forward, Powell just completed his second NBA season before agreeing to a deal to stay with Dallas. The Stanford graduate averaged 5.8 points and 4.0 rebounds in 14.4 minutes per game last season but had 16 points and nine rebounds in 28 minutes in the team's final game, a playoff loss to Oklahoma City. He was the No. 45 pick in the 2014 NBA Draft.
Before it's here, it's on the Bloomberg Terminal.
LEARN MORE