Poland Holds Rates as Glapinski Backs Status Quo Post-Brexit
New central bank boss Glapinski focused on financial stability

Benchmark interest rate kept at 1.5% for 16th straight month
Poland kept borrowing costs unchanged for a 16th month as new central bank Governor Adam Glapinski used his first meeting to focus on financial stability in the wake of the U.K.'s Brexit vote.
The 10-member Monetary Policy Council on Wednesday left the seven-day reference rate at a record-low 1.5 percent, matching the predictions of all 33 economists surveyed by Bloomberg. The economy needs no "fix" or stimulus via unorthodox measures, Glapinski said after the decision in Warsaw.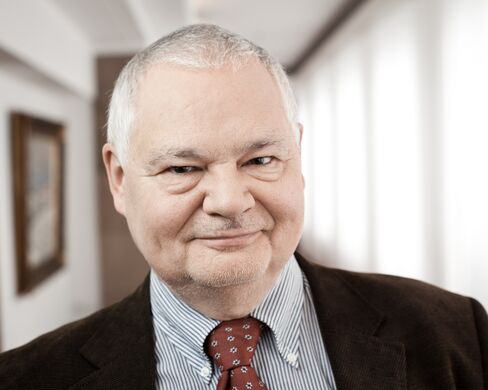 The new governor, who replaced Marek Belka last month, inherits the European Union's biggest eastern economy, whose growth rate hasn't dipped below 3 percent despite being mired in deflation for two years. Glapinski has said financial stability may eventually exceed interest rates in importance. On top of the U.K.'s vote to leave the EU, challenges at home include uncertainty over a glut of Swiss-franc mortgages and an overhaul of the pension system.
"Brexit wasn't an earthquake, and so far it's had zero impact on Poland," Glapinski said. "It causes huge uncertainty, however. And the best choice in this situation is to wait and see."
'Pragmatic' Approach
The zloty, the worst emerging-market performer since the Brexit referendum with a 1.2 percent loss, traded little changed at 4.4369 against the euro at 6:49 p.m. in Warsaw. The yield on 10-year zloty government debt gained four basis points to 2.89 percent.
Other eastern European central banks have been holding borrowing costs at record lows. Hungary left its benchmark at 0.9 percent on June 21, two days before the Brexit vote. The Czech Republic and Romania followed suit at the end of that month. Romania's central bank said it would adopt a more "pragmatic" approach following the U.K.'s decision.
Polish monetary-policy makers also reviewed updated projections by the bank's Economic Institute. With a 50 percent probability, gross domestic product is now seen expanding between 2.6 percent and 3.8 percent this year, down from its March forecast for growth of 3 percent and 4.5 percent. It also cut its prediction for inflation in 2016 to an average of between minus 0.9 percent to minus 0.3 percent. Details of the projections will be published on July 11.
Outlook Sours

Policy makers believe economic growth will actually surpass the outlook in the projections, according to Glapinski, who said he expects it will reach 3.6 percent this year.
"I wish we could somehow freeze our great economy," allowing Poland to "keep it for longer and longer," Glapinski said.
Some investment banks see cause for concern. HSBC Holdings Plc cut its 2016 and 2017 economic-growth forecasts this week, citing legislative changes by the eight-month-old government that endanger business confidence and investment, as well as doubts over plans to restructure mortgages denominated in Swiss francs that have left many borrowers struggling.
As Brexit further clouds the global backdrop, Bank Zachodni WBK in Warsaw isn't ruling out a reduction in borrowing costs after the summer.
"If GDP growth fails to pick up significantly from the disappointing 3 percent in the first quarter, the chances for a rate cut in the autumn may rise," economists at Bank Zachodni led by Maciej Reluga said in an e-mailed note.
Before it's here, it's on the Bloomberg Terminal.
LEARN MORE