Australia Must Treat Rating Threat as Priority, NSW Premier Says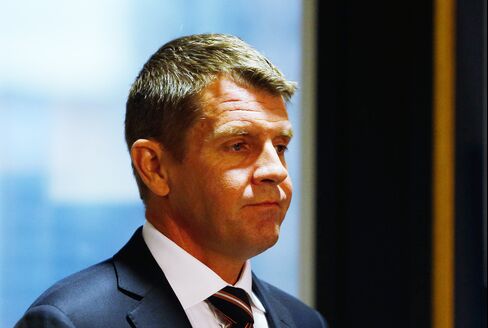 Prospect of AAA sovereign downgrade not hypothetical: Baird

Sees Turnbull likely regaining power with slight majority
Australia must act fast to counter the "very real prospect" of a sovereign rating downgrade, after a knife-edge national election result escalated concern about fiscal-policy drift, said the leader of the country's most populous state.
The threat should be addressed as a priority by the incoming government, and is a far more immediate economic concern than the protectionist bias among smaller parties that could end up holding the balance of power in the Senate, said Mike Baird, the Liberal Party premier of New South Wales, Australia's best-performing economy. A downgrade of the nation's AAA grade could boost borrowing costs for every household and business in the nation, he said.
"The truth is I'm very concerned," Baird said in an interview at his office in Sydney, the state capital. "It's a very important issue -- I think the rating agencies this week have been pretty clear in their warning that this is not something that's hypothetical."
Baird was speaking three days after a federal election in which the Liberal-National coalition is in danger of losing its majority; the final results have yet to be determined. Rating companies responded on Monday by saying they would closely monitor the political impact on Australia's persistent budget deficit, with S&P Global Ratings saying it could lower the rating if parliamentary gridlock on the fiscal front continues.
For a primer on how the election result has cast a shadow over fiscal policy, click here.
Prime Minister Malcolm Turnbull's government in May forecast Australia's deficit at A$37.1 billion ($27.6 billion) in the year through June 2017, wider than predicted six months earlier. This deterioration from earlier forecasts has been a constant fiscal feature in Australia since deficit spending began in 2008-09 to combat the global financial crisis and keep the economy out of recession.
The state premier expressed optimism that Turnbull's coalition would continue to govern, either with a small majority or as a minority administration. The result has seen a strong movement to minor parties, which could see neither major party able to build support in the electorate for policies necessary for deficit reduction.
Federal Fears
Rating companies have signaled that "political will and determination to bring budgets back to a sustainable path or to make the expenditure decisions necessary is increasingly important," said Baird. "My fear at the federal level is what takes place could potentially frustrate that."
While a sovereign downgrade would also pull down the rating for New South Wales, threatening higher borrowing costs at a time when the state is implementing a major infrastructure program, Baird played down the risk of any change in his state's plans.
New South Wales forecasts a budget surplus of A$3.7 billion dollars through June 2017, and currently has the capacity to absorb financial shocks, he said. The impact would instead be felt longer-term, as steeper borrowing costs are coupled with a significantly higher health burden.
"Once we get to about 2020, we really start to see some financial pressures," he said. "That's still something that's going to have to be addressed."
Early Election?
Asked about the chance of another election being held early, well before the parliament's three-year tenure was up, Baird said "that won't happen." He noted that the last time there was a hung parliament, in 2010, no early election resulted.
Baird, 48, who has served more than two years as New South Wales premier, ruled out any move into national politics for himself. A former Deutsche Bank AG banker, he said his professional background is better suited to state leadership, where the focus is on business-type decisions and operations management.
Baird offered a defense of maintaining an open economy -- a concept under threat around the world. Public officials need to explain that "it's not like we're giving something away for nothing in return" when foreign investment is approved.
Backs China
Amid opposition to Chinese acquirers among protectionist elements in Australia, the premier underscored the importance of that economy for New South Wales, which established a sister state relationship with southern Guangdong province almost four decades ago.
"I see a similar path" as with popular feeling about Japanese investment, Baird said. While decades ago, there was public concern about acquisitions by Japanese companies, those transactions no longer spur such opposition, he said.
When asked about the differences between Japan and China -- such as China being non-democratic and having a different security relationship with Australia -- Baird said that "China's viewed as a strong relationship for Australia -- we wouldn't have signed a free trade agreement if that wasn't the case."
"The moment you start to shut down foreign capital, it's not long before your
economy starts to shrink," Baird said.
Before it's here, it's on the Bloomberg Terminal.
LEARN MORE