Shenzhen Stocks Trade at Record to Shanghai's in New Economy Bet
City benefits as delayed Hong Kong link set to begin this year

Chinese investors pursue high growth, exciting stories: UBS
In a year that hasn't offered much comfort to China's battered stock investors, those who picked Shenzhen have something to boast about.
The benchmark index of equities in the fishing village-turned-digital hub climbed 3.2 percent last quarter and is trading near a record relative to the Shanghai Composite Index. While both of China's markets rank among the 10 worst global performers this year, Shenzhen is drawing ahead on appetite for small stocks in industries that will benefit from the nation's economic transition and speculation a planned link with Hong Kong will attract foreign inflows.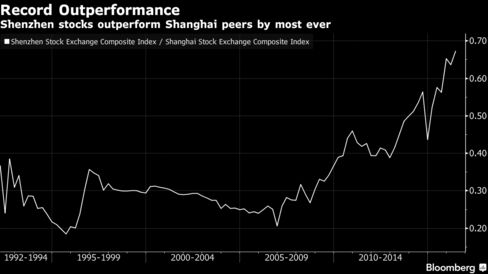 "Chinese investors don't mind expensive or small stocks because they pursue high growth and exciting stories," said Wenjie Lu, a strategist at UBS Group AG in Shanghai. "Retail investors are a dominant force and this divergence will continue."
For other global money managers, valuations aren't so easily dismissed. Shares listed in Shenzhen trade at an average 46 times earnings, almost triple the multiple on stocks in Shanghai. Caroline Maurer, head of greater China equities at BNP Paribas Investment Partners, says she'll look at buying Shenzhen's technology, consumer and media stocks once they get cheaper.
Link Speculation
"Until there are clear catalysts such as improved China macro data, Shenzhen-Hong Kong Stock connect launch, and significant supply-side reform measures to support a sustainable rally, we prefer to keep our exposure to A-shares on the low side," Hong Kong-based Maurer said by e-mail last week.
The Shenzhen index, containing more than 1,800 companies in industries from technology to healthcare, rose 0.4 percent to close at a six-month high on Wednesday. The gauge traded at the highest on record versus the Shanghai Composite on June 28, according to data compiled by Bloomberg. Jordi Visser, head of investments at $1.4 billion U.S. hedge fund Weiss Multi-Strategy Advisers, said in March that he expects the Shenzhen Composite to top all other global stock gauges in the next three to five years.
The link between exchanges in the southern Chinese city and Hong Kong will begin this year, Hong Kong Commercial Daily reported China Securities Regulatory Commission Chairman Liu Shiyu as saying last week. The start date hasn't been set amid technical problems, Liu was cited as saying. The program, an expansion of one with Shanghai, is part of government efforts to open up mainland markets. At the moment, foreign investors can only buy Shenzhen equities after applying for a quota.
Yuliang Chang, Hong Kong-based strategist at Deutsche Bank AG, wrote in a June 29 report that authorities would announce the Shenzhen connect soon and the actual start date may be in three months' time. Northern Trust Securities Inc. advised investors to buy Hong Kong Exchanges & Clearing Ltd. and Bank of China Ltd. shares.
Earnings Growth
Shenzhen bulls say the city has more in its favor than the link. Its companies are best-placed to gain from government policies that seek to transform an economy driven by industrial expansion to one focused on technological efficiency, according to Macquarie Capital Securities Ltd.
Companies on the Shenzhen Composite registered an 8.1 percent increase in earnings in 2015, compared with a 9.5 percent decline for firms on the Shanghai gauge. BYD Co., the Shenzhen-listed electric-car maker that counts Warren Buffett's Berkshire Hathaway Inc. as a shareholder, reported in April that first-quarter earnings jumped to 850.7 million yuan ($128 million), a seven-fold jump from a year earlier. PetroChina Co., the nation's biggest oil and gas producer, posted its first-ever loss in the same period, while at Zijin Mining Group Co., the largest gold mining company traded in Shanghai, net income sank 85 percent.
"Private enterprise and new economy earnings growth has been far better than SOEs over the past 10 years and we expect this divergence to continue," said Erwin Sanft, head of China strategy with Macquarie Capital in Hong Kong. "As long as China's overall growth continues to be weak, then the market will reward stocks that can achieve double-digit earnings growth."
Before it's here, it's on the Bloomberg Terminal.
LEARN MORE