Citigroup Picks These Asian Banks to Prevail After Brexit: Chart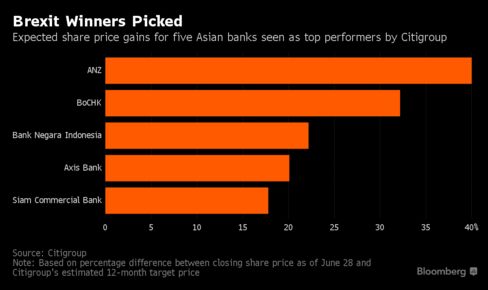 Citigroup Inc. is advising investors to focus on Asian banks in emerging markets over their developed-market peers following the U.K.'s vote to leave the European Union. Potential monetary easing by the Bank of England and the European Central Bank, coupled with a delay in the U.S. Federal Reserve raising interest rates, make domestic-focused banks in economies such as India, Thailand and Indonesia more appealing, Citigroup analysts wrote in a note. The U.S. firm is also "cherry picking" some developed-market banks that have revamped their business, such as Australia & New Zealand Banking Group Ltd. and BOC Hong Kong (Holdings) Ltd., analyst Kaiwan Master said by e-mail.
Before it's here, it's on the Bloomberg Terminal.
LEARN MORE