Brazil Real Weakens as Central Bank Intervenes for a Second Day
Central bank sold all 10,000 reverse swaps contracts offered

Emerging-market currencies declinede as commodities dropped
The real joined a selloff in emerging-market assets as Brazil's central bank intervened to weaken the currency after it posted the world's biggest surge this year.
The real fell 1 percent to 3.3033 per dollar on Tuesday. The monetary authority placed all 10,000 reverse swaps contracts offered, a move equivalent to buying $500 million in the futures market. Policy makers held a similar sale on Monday.
The central bank has sold about $44 billion of the contracts in the past 15 weeks to limit gains in the real, which has jumped 20 percent since the end of December. Tuesday's sale added to global momentum going against riskier assets: A gauge of emerging-market currencies fell the most in a week as Brent crude traded below $50 a barrel and the Bloomberg Commodity Index dropped 2.5 percent.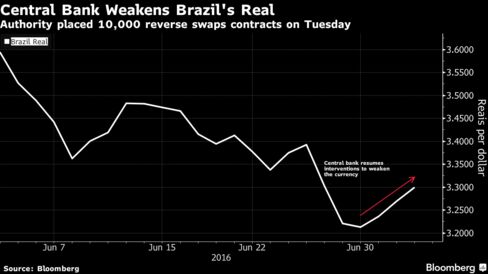 "The real drops as risk aversion picks up and the Brazilian central bank weighs in," said Georgette Boele, an Amsterdam-based currency and precious-metals strategist at ABN Amro Bank NV who forecasts the currency will slump to 3.35 per dollar by year-end. The real "has room to come a bit more under pressure because there may be waves of uncertainty in the near term in financial markets."
Traders have pushed up the value of Brazilian assets this year on speculation that a new administration would pave the way for measures to revive the economy and curb a ballooning budget deficit. Regaining investors' trust is a key goal for Acting President Michel Temer, who assumed the presidency on May 12 after a Senate vote forced Dilma Rousseff to temporarily step down while she faces an impeachment trial.
Folha de S.Paulo reported that ministers are concerned the government will struggle to post a fiscal deficit before interest payments smaller than 150 billion reais in 2017, without saying how it got the information. According to Folha, Temer's goal is a deficit smaller than this year's 170.5 billion reais.
"Investors didn't like the news on the deficit," said Markus Casal, a trader at Ativa brokerage.
Swap rates on the contract maturing in January 2018, a gauge of expectations for interest-rate moves, rose 0.06 percentage point to 12.74 percent.
Before it's here, it's on the Bloomberg Terminal.
LEARN MORE