Tokyo's Setagaya has nation's longest nursery waiting lists

Experts say convergence on capital holds birthrate down
As Japan's population shrinks and ages, some rural communities are in danger of extinction. Yet in Tokyo, one mayor has the opposite problem.
Packed trains, overcrowded schools and the country's longest waiting lists for preschool care are the norm in Setagaya, the most populous of Tokyo's 23 wards, as the Japanese continue their drift to the capital. Nobuto Hosaka, the district's mayor, is trying to counter this by developing relationships with rural villages -- and he would be happy if people are inspired to leave the city in favor of country life.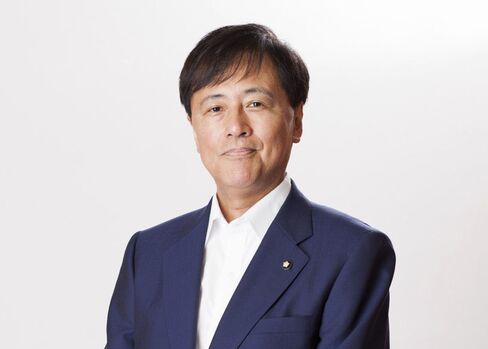 "We're experiencing the opposite of the phenomenon that's going on around the country," Hosaka, 60, said in a recent interview at his offices. "It's not my aim to have the population become more and more concentrated in the city. Regional industries are breaking down and there is no one to cultivate the fields, so if people in urban areas want to try it, we want to provide them with opportunities."
The increasing convergence of the population in the capital is bad news for Prime Minister Shinzo Abe's efforts to bolster the faltering birthrate, which he has repeatedly referred to in his campaign for Sunday's upper house election. Tokyo's women, on average, have fewer children in their lifetimes than contemporaries elsewhere in the nation.
"If the trend continues, it will mean the end of Japan," Shigeru Ishiba, minister for reviving the regions, said in an interview last month. His own parliamentary constituency lies in the western prefecture of Tottori, whose population of 570,000 compares with the more than 890,000 in Setagaya.
Abe aims to lift the average number of births per woman to 1.8 from about 1.46 now in a bid to stabilize the shrinking population at 100 million over the next half century. The current figure is 127 million. The fertility rate in the capital is just 1.17 -- a problem experts blame on factors including cramped housing, a lack of family support nearby and weaker expectations that young people will get married.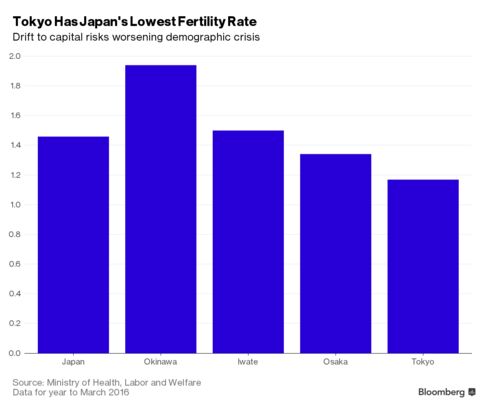 Former cabinet minister Hiroya Masuda has written several books arguing that the only way to ensure Japan's survival is to redirect population flows back to the regions. Masuda is considering a run for Tokyo governor in an election to be held on July 31, Kyodo news said this week.
Politicians' warnings are largely falling on deaf ears. Setagaya hits the sweet spot of relatively short commutes to jobs and schools in the city center, while housing largely remains affordable as farmers sell their remaining patches of land for development.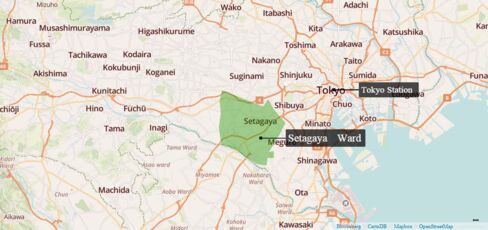 "It's a status thing," said Akiko Shirota, 41, a Setagaya resident picnicking in a local park with her two children and their friends on a sunny June weekend. "It was my husband's dream to move to Tokyo."
Shirota previously lived in Chiba, east of Tokyo, while her friend Natsuko Fukushige came to the capital from Osaka. The large number of schools and parks were an added attraction, Shirota said.
"There are more opportunities for my kids here," she said. "I may think about moving out to the regions when I'm older."
Neighbors' Complaints
Both the populations of the ward and the capital as a whole have risen over the past decade, meaning the number of people using the train lines that ferry residents into central Tokyo has ballooned by hundreds of thousands a day. One operator, Odakyu Electric Railway Co., is bolstering infrastructure in an attempt to add more services and relieve overcrowding.
Housing is so tightly packed in some areas that residents complain about the noise of their neighbors' air-conditioning units.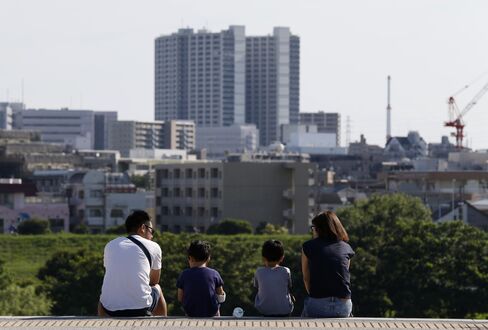 Hosaka's plans to build five more preschool care centers have been delayed by opposition from groups of mainly elderly people concerned about the noise and the inconvenience of crowds of mothers on electric bicycles pedaling through the narrow streets. Schools are having to construct extra classrooms on their grounds and the mayor is considering building more.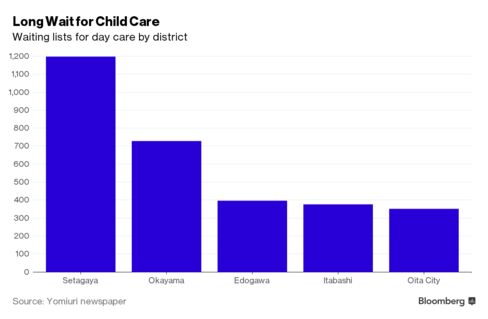 The national government plans to move administrative organs out of Tokyo as part of its drive to decentralize and to set an example to the private sector. While the Cultural Affairs Agency is being moved to the ancient capital of Kyoto in the next few years, progress has been slow.
"The government is telling private companies that they should consider spreading their functions around the regions, rather than concentrating them in Tokyo," said Ishiba, the regions minister. "If the government keeps everything in Tokyo and tells just the private sector to move, it won't be persuasive."
'Nowhere to Run'
Hosaka, a high-school dropout and former Social Democratic Party lawmaker, says he's not impressed by the government's efforts. So he makes sure people are aware of the disadvantages faced by residents of his ward, such as the long waiting lists for day care.
"It's the highest figure in the country," he said, noting that other local governments calculate their figures differently. "You can make it look like less, but I think it's necessary to show how bad things are. Otherwise people might move here and find they can't get a place."
He is nonetheless preparing to deal with a ward population he thinks will rise to a million in future. That concerns him, he says, because of the risk of natural disasters in one of the world's most earthquake-prone nations.
"If it happens in Setagaya, there's nowhere to run to and nowhere to take shelter," he said. "There are too many people, so there's not enough space."
Before it's here, it's on the Bloomberg Terminal.
LEARN MORE