Italy Faces Fight to Shield Bank Investors in Rescue, Fitch Says
Renzi will want to avoid bail-in, Fitch's Vasciminno, Chan say

Government said to consider 40 billio- euro injection in banks
Italian Prime Minister Matteo Renzi faces a battle to win European Union approval for a bank-rescue plan that protects investors from taking losses, according to Fitch Ratings.
"We believe it will be difficult to reach the political consensus necessary to inject public funds as equity," Fitch analysts Francesca Vasciminno and Cynthia Chan wrote in a note on Monday.
EU state-aid rules, which normally require shareholders and junior creditors to share losses, can be waived in "exceptional circumstances" under the bloc's treaties. Such an exemption requires unanimous approval by EU member states. Failing that, any injection of public funds under the bloc's bank-failure law would be subject to state-aid rules.
"We believe the Italian government would want to avoid a bail-in following the political repercussions when it had to impose losses on retail investors in late 2015," according to Fitch. "Retail investors hold roughly a third of total outstanding Italian bank debt, and their bail-in would disrupt financial stability and undermine depositors' confidence."
Italian bank shares, which have shed more than half their value this year, slumped after the U.K. voted to leave the EU on concern that this could pile pressure on lenders already struggling under the weight of about 360 billion euros ($401 billion) of non-performing loans.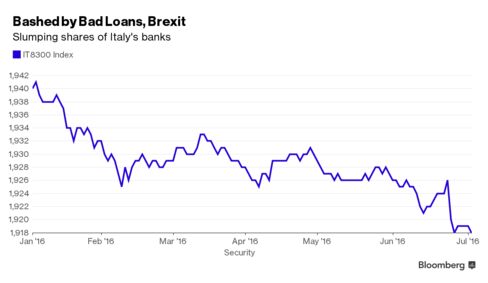 Renzi's efforts to shore up Italy's banks ran into a roadblock last week, when German Chancellor Angela Merkel insisted on sticking to the rules put in place since the financial crisis to prevent taxpayer bailouts. Italy, which failed to gain EU backing for a bad bank earlier this year, has been sounding out other countries and the European Commission, the bloc's executive arm, on ways to help its banks.
The government in Rome is considering measures that may inject as much as 40 billion euros into banks, according to a person with knowledge of the planning. The commission has approved as much as 150 billion euros in government liquidity guarantees for lenders as a precautionary measure.
While Italy hasn't announced a recapitalization plan, steps under consideration "appear to include direct capital injections or issuance of hybrid capital instruments to be acquired by the state," according to Fitch. "An increase in the size of Atlante, a vehicle to participate in bank capital increases and invest in impaired loans, is also possible."
'Full Compliance'
One concern in Italy has been to spare retail investors from imposed losses known as bail-in, a feature of both state-aid and bank-failure rules.
"Based on precedents, there's a number of solutions that can be put in place that will be in full compliance with EU rules in terms of addressing liquidity and capital shortages in banks without adverse effects on retail investors," commission spokesman Ricardo Cardoso told reporters on Monday.
Elke Koenig, head of the euro area's Single Resolution Board, said that while such concerns are understandable, they're not covered by the bloc's Bank Recovery and Resolution Directive.
"There is a debate in Italy saying you have to keep retail investors out of the bail-in," Koenig said in an interview. "But the BRRD rightfully only looks at the creditor hierarchy. I have a lot of sympathy for solutions that address the social issues, but that should be done alongside the measures of the BRRD, for example through specific social measures for affected creditors."
Stress Test
The assumption in BRRD is that the need for "extraordinary public financial support" for a bank indicates that a bank is "failing or is likely to fail, and therefore triggers the need for resolution," according to the European Banking Authority.
Yet the law also gives politicians an alternative. When public support is used to address a capital shortfall identified in a stress test or asset-quality review, it "may not be considered as a trigger for resolution when it is provided to remedy a serious disturbance in the economy of a member state and to preserve financial stability," the EBA said.
The EBA will publish the results of the 2016 stress test on July 29.
As only five Italian banks are undergoing the EBA test, "smaller ones would presumably need to undergo a Bank of Italy stress test to be eligible for a BRRD precautionary recapitalization," according to Fitch.
Before it's here, it's on the Bloomberg Terminal.
LEARN MORE