Aussie banks arranged 47% of syndicated loans in first half

Likely to see more demand from Asian banks: Westpac's Dean
Foreign banks are boosting their presence in a shrinking Australian syndicated loan market as more onerous capital requirements prompt domestic lenders to pare risk.
Australia & New Zealand Banking Group Ltd., Commonwealth Bank of Australia, National Australia Bank Ltd. and Westpac Banking Corp. arranged a combined 47 percent of total loans for Australian borrowers in the first half of 2016, compared with 53 percent in the same period last year, according to data compiled by Bloomberg. Volumes in the first half were at a six-year low, though government asset sales and infrastructure deals could spur a rebound in the latter part of this year.
Australia's big four lenders, which may need to add to the A$20 billion ($15 billion) in equity capital they raised last year to meet Basel regulatory requirements, are divvying out portions of the loans they do arrange to deal-hungry banks from China, Japan and Taiwan. The lower capital burdens borne by many Asian peers are helping them to compete, according to Westpac's Aziz Dean.
"We will likely see more demand from the Asian banks to participate in transactions going forward," said Dean, the Sydney-based head of loan markets at Australia's second-largest bank by market capitalization. "I think we will see them increasingly target Australian infrastructure deals, leveraged finance deals and selectively corporate deals."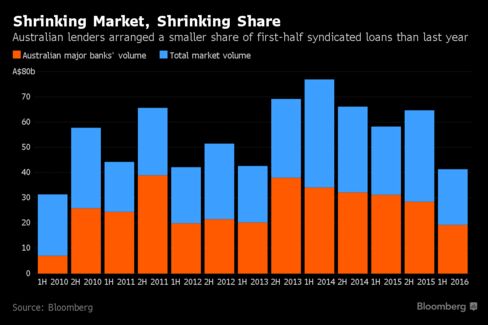 Australian syndicated loan volumes dropped to A$41.3 billion in the six months ended June 30, the least since the first half of 2010. That compares with A$64.8 billion of deals in the half-year ended Dec. 31. The slide came as merger and acquisition volumes dropped by about a quarter.
"Greater funding diversification will be inevitable moving forward and broader syndications to a variety of banks are one means of achieving this," said Robin Dutta, ANZ's Sydney-based head of loan syndications for Australia. "We expect international lenders to continue to increase their commitment levels to Australian transactions, but we anticipate that borrowers will remain conscious of retaining a strong domestic major bank representation in their lending groups."
Deal Breakdown
The four largest Australian banks lent A$19.2 billion in the first half, the least since 2010. Out of the total loans signed in the first six months by local and international lenders, about 29 percent have replaced or extended existing debt facilities, while 29 percent were for mergers and acquisitions and 17 percent were for project financing.
"The refinancing pipeline was always expected to be lower this year and pockets of market volatility have somewhat impeded the growth in M&A financing volume, except for infrastructure and real estate," said ANZ's Dutta. "Uncertainty around the political situation in Australia, and the U.K. risk weighing on investment sentiment, could impede growth in financing volumes."
Still, government asset privatization and infrastructure projects are expected to give a boost to second half volumes, with bidders for the long-term lease of the New South Wales power network Ausgrid said to be seeking up to A$14 billion debt. That would be the second-largest syndicated loan ever in Australia. Bidding groups are also sounding out financing for the Port of Melbourne lease, which could be valued up to $6 billion.
"Very large single deals like those related to the New South Wales power privatization process can result in a spike in market volume, but that does not necessarily mean that the overall market has grown accordingly," Westpac's Dean said. "That said, whether it's in the second half of this year or into next year, I think we will see more leveraged finance transactions and M&A-related deals."
Wider Margins
While volumes dropped, a widening of loan margins is providing some succor to the banks as they face higher costs themselves. The average margin on five-year syndicated loans has widened to 207 basis points over benchmark rates in 2016 from 194 basis points in 2015, according to data compiled by Bloomberg. The average yield premium over the swap rate on financial company bonds in Australia rose to a more than two-year-high of 114 basis points in March, a Bloomberg AusBond index shows.
"Regulatory changes are making capital more expensive, so I think the bias for loan pricing is toward widening than tightening," said Andrew McDermott, Sydney-based head of syndications in Australia at Mizuho Bank Ltd.
Before it's here, it's on the Bloomberg Terminal.
LEARN MORE