Bank has more than 50 staff targeting investors with debt

Presidents of Top 3 lenders seeking more asset turnover
Sumitomo Mitsui Financial Group Inc. wants to sell more domestic and overseas loans to investors as yields in Japan vanish and regulators pressure banks to make better use of capital.
Sumitomo Mitsui Banking Corp., the main banking unit of Japan's second-largest lender by market value, set up a distribution department from April with more than 50 staff to offer debt to investors including insurers and regional banks. Presidents of Japan's three largest lenders including Mitsubishi UFJ Financial Group Inc. and Mizuho Financial Group Inc. said in May they want to see more asset turnover in their balance sheets as they target higher fees and margins.
With the Bank of Japan pushing yields on government debt out to 15 years to minus levels, and corporate bond issuance in the nation less than 5 percent of the U.S., fixed-income investors in Japan are looking for alternatives with positive yields. Sumitomo Mitsui created and sold project notes structured from bank loans for the first time this year, and had inquiries from investors not involved in the deal interested in future deals, said Yosuke Yamada, a vice president at SMBC's distribution department, in an interview last week in Tokyo.
"I would guess they are eyeing where bond markets are and saying if the yield curve is negative beyond 15 years, then people will be prepared to pay for the loans," said David Threadgold, the Tokyo-based Asian research head at Keefe Bruyette & Woods, a boutique investment bank. "If the choice is to tie up capital holding what are now low-yielding assets and therefore making an inadequate return on your equity, then actually the best choice might be just to pass that off to somebody else who will pay richly for it because they don't have any choices."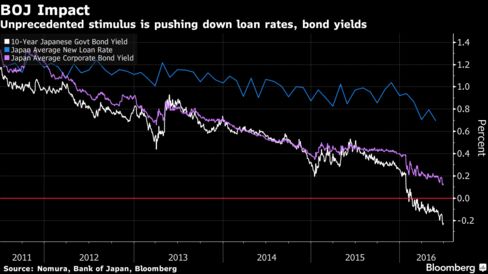 SMBC's newly-formed distribution department was previously part of a larger origination and syndication group, with about 30 people involved in selling to investors, according to the bank. The solar project bonds that the bank sold this year mature in 2035 and offer investors a coupon higher than similarly rated corporate bonds, Yamada said.
Sumitomo Mitsui, which owns the world's third-largest aircraft leasing company, will also seek to offer local investors more airplane-related and project finance debt products, he said. The group reported 1.01 trillion yen ($9.8 billion) in net fees and commissions in the year ended March, a record for the company, while net interest income fell 5.5 percent to 1.42 trillion yen.
"About 70 percent of our total assets are in fixed-income yen products, but right now it's very difficult to get any yield," said Akinao Nishio, a deputy general manager at Dai-ichi Life Insurance Co.'s fixed-income investment department. The insurer has about 100 billion yen invested in domestic and overseas project finance deals.
For a story on Japanese banks cutting bond holdings, click here.
Three of Japan's four biggest banks, including MUFG and Mizuho are forecasting smaller profits this year as the BOJ's negative-rate policy pushes down loan margins, forcing lenders to focus on boosting fee business and lending abroad. Mizuho President Yasuhiro Sato told reporters in May that the lender had been able to boost fees at home by syndicating more loans, offsetting a decline in investment sales to individuals.
"They can generate fee income by selling or syndicating loans," said Shunsaku Sato, senior credit officer at Moody's Investors Service in Tokyo. "That is a more efficient use of their capital."
Before it's here, it's on the Bloomberg Terminal.
LEARN MORE