China Large-Cap ETF Short Sales Collapse on Stimulus Bets: Chart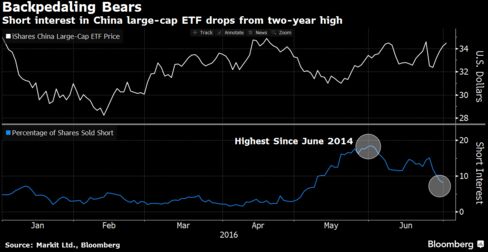 Market sentiment on China's biggest companies has improved in the past two months as investors expect further stimulus. Short interest on the U.S.-listed iShares China Large-Cap ETF collapsed from a two-year high of 19 percent a month ago to 8.1 percent on June 30, data compiled by Markit Ltd. and Bloomberg show. The state-owned enterprises hooked on cheap credit have the most to lose from China's banks tightening the lending spigot.
Before it's here, it's on the Bloomberg Terminal.
LEARN MORE