UniCredit Turns to French Investment Banker to Instill Rigor
Italian lender appointed Jean Pierre Mustier CEO on Thursday

UniCredit shares fell more than 60% this year under Ghizzoni
While running UniCredit SpA's corporate and investment bank, Jean Pierre Mustier reshaped the business by exiting markets others were too timid to abandon. Now investors are hoping he applies the same discipline across the company as he returns to become the first non-Italian in the top job.
Mustier, a 55-year-old Frenchman, will take over as chief executive officer from July 12, replacing departing Federico Ghizzoni, the Milan-based firm said Thursday. Since leaving UniCredit in 2014, Mustier, previously a 22-year veteran of Societe Generale SA, was a partner at Tikehau Capital, an investment company that lends to mid-sized businesses.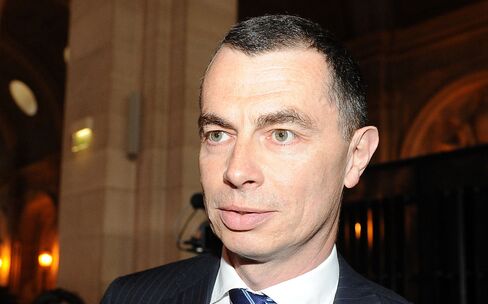 Mustier will spearhead an overhaul as the country weighs resorting to state aid to avert a banking crisis. UniCredit has struggled to build up capital, a task compounded by the bank's complex structure spread across 17 countries, a pile of soured loans and record-low interest rates. With no experience leading a consumer bank, Mustier will soon have to weigh selling assets or turning to investors for capital after his predecessor's efforts were deemed insufficient.
"I had thought the next CEO would be another Italian," said Michael Huenseler, who spent eight years at UniCredit and now helps oversee about 17 billion euros ($19 billion), including bank debt, at Assenagon Asset Management in Munich. "Mustier can get this done, he knows UniCredit very well, but someone with more of a track record in the corporate business would have helped address the most pressing investor concerns."
A day after the appointment, analysts are assessing Mustier's likely plan of attack. Strengthening UniCredit's financial buffers will likely come first, achieved through a combination of measures including a capital increase, analysts including Steven Gould at Natixis wrote. Anna Maria Benassi at Kepler Cheuvreux said Mustier is more likely to first decide what businesses the bank wants to keep, and then boost capital before moving on to improving the bank's profitability.
New Plan
Mustier said in an e-mailed statement that he intends to implement a new strategic plan, whose core objectives are strengthening the bank's capital ratios and "improving our bottom line through closer relationships with our customers and a very disciplined risk approach."
The appointment ends a search for a new CEO that dragged on as the shares tumbled, even before Britain's decision to leave the European Union shocked financial markets and prompted Italy to consider state aid for its banks. The stock is down about 64 percent this year, the second-worst performance in the Bloomberg Europe Banks and Financial Services Index.
UniCredit dropped another 5.3 percent as of 12:53 p.m. in Milan on Friday, leading declines among Italian banks.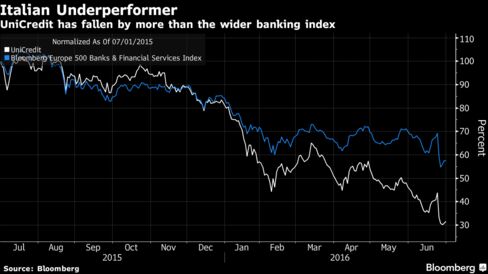 People familiar with the other candidates under consideration had said they were mostly Italians, including UBS Group AG's investment-bank head, Andrea Orcel, and Banca Monte dei Paschi SpA CEO Fabrizio Viola.
The succession talks focused on a wider management overhaul, people familiar with the matter said earlier this week. Some investors have signaled they favor replacing more of the lender's 13 top executives to pave the way for a wider restructuring, said one of the people, asking not to be identified because the matter is private.
Broking Exit
Ghizzoni's overhaul, ultimately judged insufficient by shareholders, envisaged about 18,000 job reductions, or 14 percent of the workforce, including staff that will leave UniCredit when the planned sales of the Ukrainian business and a stake in Pioneer Global Asset Management SpA are completed.
"A top choice -- the right man in the right place," said Antonio Guglielmi, a London-based analyst at Mediobanca SpA, said of Mustier. The new CEO is a break with the past but "will minimize internal disruption, even though I'm expecting important changes in the first-line management team."
The need for banks to abandon the paradigms of the past is one thing Mustier stressed in 2013. In an interview that year, he said securities firms would have to rework their business back to models from the 1980s as regulatory demands for higher capital levels force retrenchment. That's something that larger European competitors only came to realize in earnest years later.
'More Cautious'
When he joined UniCredit, the investment bank contributed about 60 percent of the bank's operating profit, and counted more than 16,000 employees. When he left, the unit contributed about 25 percent of operating profit with about 4,000 staff after some activities were shifted to other divisions. Mustier exited most European stockbroking to concentrate on debt markets.
"We appreciate the focus on capital efficiency he had while heading the CIB division," UBS analysts Ignacio Cerezo and Francesco Di Giambattista, who have a neutral stance on the shares, wrote in a note to clients. "He is already familiar with the bank, which should allow him to be up to speed over a shorter time period. On the other hand, his lack of experience with retail banking leaves us more cautious."
Mustier's appointment adds to a spate of management changes at Europe's biggest banks over the past year. Deutsche Bank AG and Credit Suisse Group AG both changed their CEOs in July while Barclays Plc named a new CEO in October. None of the men who run those companies come from the countries in which they are based.
Rugby Fan
Mustier, a rugby fan from Clermont-Ferrand, France, graduated from the Ecole des Mines de Paris and Ecole Polytechnique, where he crossed paths with Credit Suisse CEO Tidjane Thiam, according to a person familiar with the situation. They remain friends, the person said.
Although Mustier speaks some Italian, he is working on his language skills, another person said, asking not to be identified because the matter is private.
At Societe Generale, he worked his way through the ranks with positions at the investment bank in Paris, Tokyo and Hong Kong, having joined the French lender in 1987 as a stock-option trader. In 2003, he was appointed head of the corporate and investment bank, before taking over the investment-management division in 2008.
Kerviel Scars
Mustier was still running Societe Generale's investment bank during the discovery of a 4.9 billion-euro trading loss in 2008. Judges found trader Jerome Kerviel solely responsible for the loss, though a civil trial is re-examining if the bank should shoulder some of the blame.
That crisis shaped Mustier's view of the downside to banking, and efforts to avoid such shocks at UniCredit may serve him in good stead with regulators, staff and investors alike.
"He's very risk-aware," said Huenseler. "You really felt there was a lot of attention to detail and very focused. Mustier is serious about taking decisions and disciplined,which earned him a lot of respect from his fellow investment bankers, but can also be quite straight at times."
Before it's here, it's on the Bloomberg Terminal.
LEARN MORE