Looking for Best-Paid U.S. Bosses? Search Near the Coasts: Chart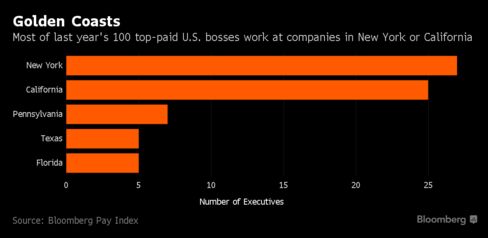 If you're gunning for one of the top-paid spots in corporate America, look past the flyover states. More than half of last year's 100 highest-paid U.S. executives work at businesses based in New York or California, according to the Bloomberg Pay Index, which values compensation as of a company's fiscal year end. By comparison, about 9 percent of companies in the Russell 3000 Index are based in New York and 17 percent in California. Patrick Soon-Shiong, chief executive officer of Cardiff-by-the-Sea, California-based NantKwest Inc. tops the list with $329.7 million in awarded pay, followed by Paul J. Taubman of New York-based PJT Partners Inc. with $164 million.
Before it's here, it's on the Bloomberg Terminal.
LEARN MORE