Futures Signaling East Coast Gasoline Glut Is Here to Stay
August below September on June 30 for first time since 2008

Inventories are 'simply stronger' than record-high demand
August gasoline futures are cheaper than September for the first time in eight years, signaling that the glut on the East Coast isn't going away soon.
"August/September trading at a discount is not cool. You shouldn't be seeing that," Robert Campbell, head analyst of oil products at Energy Aspects Ltd., said by phone from New York. The August contract settled 0.61 cent a gallon below September Thursday on the New York Mercantile Exchange, ending the month at a discount for the first time since 2008.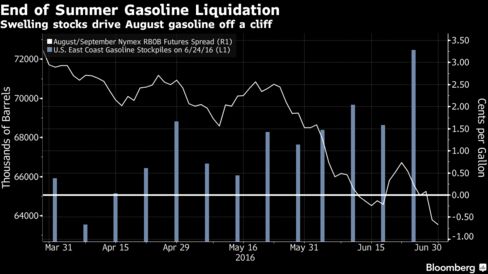 Supplies are "simply stronger" than demand, Campbell said, and they've kept growing even as gasoline consumption has soared. East Coast stockpiles are at a record 72.5 million barrels, U.S. Energy Information Administration data show. In PADD 1B, the sub-region that includes New York Harbor, the delivery point for Nymex gasoline, inventories are 35 percent above the five-year seasonal average.
The glut's effects are rippling through the oil complex. This month at least three tankers hauling gasoline or components were diverted from New York Harbor, according to vessel tracking data and shipping fixtures compiled by Bloomberg.
East Coast refineries have cut back their crude processing to a three-month low of 1.09 million barrels a day. They will be under pressure to shut down earlier for fall maintenance or to slow their output further, said Eric Rosenfeldt, a gasoline trader and vice president of supply and trading at Papco Inc. in Virginia Beach, Virginia.
"It's going to be a challenge," Rosenfeldt said. "These inventories are just astronomically high."
Two Choices
Because August demand is normally stronger than September, futures prices slip then as autumn begins and refineries start making cheaper winter-grade gasoline. This year the pattern isn't holding because of the inventories.
That leaves inventory holders with two options, Rosenfeldt said. Both of them involve selling summer gasoline for less than anticipated.
"Do I make that roll from summer into winter with the summer specification gasoline?" he said. "Or do I discount it enough to where I can actually export it?"
Before it's here, it's on the Bloomberg Terminal.
LEARN MORE