Crude's 100% Jump No Joy for World's Biggest Rig Makers: Chart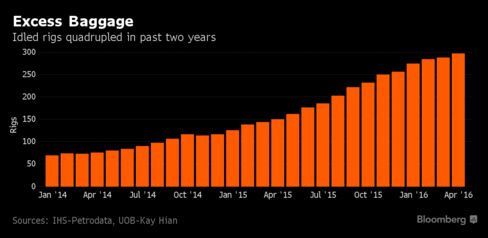 Crude prices doubling since February haven't eased the pain for the world's biggest oil-rig makers. Jackup rigs -- structures erected from the ocean floor as a base to search for oil -- are lying unused because of overcapacity and companies aren't scrapping them fast enough for orders to resume at Keppel Corp. and Sembcorp Marine Ltd., according to UOB-Kay Hian Holdings Ltd. Given the slowdown in orders, the world's two biggest makers of these rigs will see lower earnings as the "new normal," the brokerage said.
Before it's here, it's on the Bloomberg Terminal.
LEARN MORE