Central bank could cut rates twice more in 2016: Anderson

Inflation allows easing, but won't be the catalyst, she says
UBS Asset Management sees the yield premium on Australian bonds shrinking as the central bank cuts its benchmark interest rate. They aren't that focused on inflation though, for them the key things to watch are China and jobs.
A slowdown was already on the cards for Australia's largest trading partner and the fallout from Britain's vote to leave the European Union vote has magnified risks for China, according to Anne Anderson, who oversees about $20 billion as the money manager's head of Asia-Pacific fixed income. She said the labor market's also probably not as good as the Reserve Bank of Australia would like and, while a rate cut is most probable in August, there's a possibility of a move as soon as next week if markets haven't calmed.
With investors searching for yield, she expects the spreads between rates on Australian bonds and for international peers such as the U.S. will narrow, albeit in "episodic" fashion. The central bank's last rate reduction came in May after official data showed core consumer price inflation slowed to the weakest on record, and forecasters are predicting the next quarterly release on July 27 will enable another policy shift.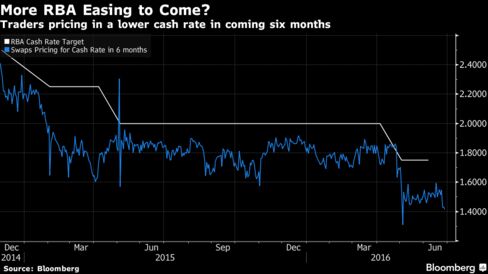 "Inflation gives them the scope, but it's not the catalyst for easing," Anderson said in Sydney on Wednesday. "The most important catalyst for whether they'd speed things up or slow things down would be the employment figures and I think China."
After years of flooding the world's most populous nation with credit, lenders in China are now facing a surge in troubled borrowers as economic growth slows to its weakest pace since 1990 and company profits shrink. The country will kick off the release of June economic data on Friday, starting with the purchasing managers' index.
"If you get a confluence of factors I would still think that there's downside risks to China, particularly after that nice boost we saw to credit and property, it can't be sustained," Anderson said. "There were already headwinds, this just intensifies it."
Australia's unemployment rate currently stands at 5.7 percent and although payrolls grew by a better-than-expected 17,900 positions in May, that gain was entirely due to growth in part-time jobs. June figures are scheduled to be released on July 14.
RBA Cuts
Anderson reckons RBA policy makers could ease from the current level of 1.75 percent to 1.25 percent this year, with an additional quarter point cut possible early in 2017.
The swaps market was pricing a 54 percent chance that the cash rate would be 1.5 percent or lower in August, and a 28 percent probability of at least two quarter point cuts by year end, according to data compiled by Bloomberg as of 5:30 p.m. on Thursday in Sydney.
Australia's benchmark 10-year bond yield was at 1.98 percent, 47 basis points more than similar tenor U.S. securities. That gap has narrowed from as much as 84 in February.
"People are reaching for yield," Anderson said. "Over time I would expect that Australia continues on its path of outperforming on spreads."
Curve Flattening
Anderson said, while it's not an environment to be taking on large amounts of interest-rate risk, UBS Asset Management has been adopting positions on RBA policy timing and shifting expectations for the Federal Reserve. It's also made bets on a flattening of the Australian yield curve.
"We've been range trading," she said. "At both sides of the market with a tendency in recent times, particularly as you come closer to an easing, to run long."
The floor for the RBA cash rate is probably 1 percent and policy makers are only likely to go below that in "extenuating circumstances," according to Anderson. With the current buffer above that now just 75 basis points, the central bank is likely to spread out its easing moves, she said.
In corporate credit, investors' hunt for yield will continue to provide support, but there will be ongoing bouts of volatility and now is not the most attractive time to add to positions, according to UBS Asset Management.
"Given the uncertainties I would expect a higher risk premium," Anderson said. The fund manager is "looking for either higher conviction or more attractive spreads, because they haven't actually moved very far" in the wake of the U.K. referendum, she said.
That said, the default outlook for company debt in Australia remains benign and the country is not heading for recession "any time soon" in Anderson's view.
"We were transitioning very nicely, quite pleasingly actually, and maybe this doesn't derail us," she said, referring to the U.K.-related ructions. "But I think the most important thing for us with regards to whether or not the central bank pulls it forward, the easing, is importantly we look to China to see how that trades, because I think that's very significant."
Before it's here, it's on the Bloomberg Terminal.
LEARN MORE