Treasuries Fall as Diminished Brexit Concern Curbs Haven Demand
Yields rise as Oracle leads slate of corporate-debt issuance

U.S. bonds still on pace for best first half of year since '95
Treasuries fell for a second day, erasing gains, as diminished concern over the impact of the U.K.'s exit from the European Union damped refuge demand.
Benchmark 10-year notes fell as U.S. stocks advanced amid a global equities rally. A slate of investment-grade corporate-bond issuance, including a $14 billion Oracle Corp. deal that was the year's third-largest offering, weighed on demand for Treasuries. The yield on U.S. 30-year bonds rose after touching the lowest since February 2015 as data showed a measure of inflation preferred by the Federal Reserve fell short of forecasts.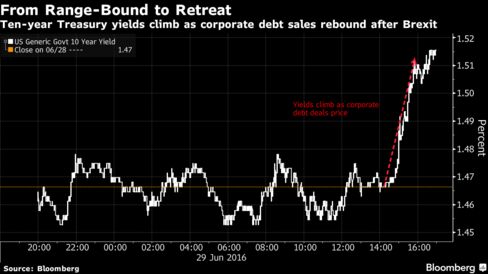 "The market had been hanging in despite all risk assets rallying significantly, and we've just come back to an equilibrium as that supply is being distributed," said Tom Tucci, managing director and head of Treasury trading in New York at CIBC World Markets Corp. "Bonds were probably a little bit too firm to where the stock market was trading, and you had supply coming in the bond market, and all that happened was we digested it at a lower price."
Treasuries are still heading for their biggest back-to-back quarterly advance in more than four years, with the rally snowballing last week in a flight to the safest assets after the U.K. voted to leave the EU. The Bloomberg U.S. Treasury Bond Index has returned 5.5 percent since the end of 2015, the most since the combined third and fourth quarters of 2011. Bank of America Corp.'s index of U.S. debt shows the market is off to its best first half of a year since 1995.
Benchmark 10-year note yields climbed five basis points, or 0.05 percentage point, to 1.52 percent at 5 p.m. in New York, according to Bloomberg Bond Trader data. The price of the 1.625 percent security due in May 2026 was 101.
With Britain in limbo as EU leaders gathered in Brussels to discuss the nation's withdrawal, a majority of economists surveyed by Bloomberg predict that the Bank of England will add more stimulus to soften Brexit's blow, while signs that the pain will spread quickly have yet to emerge. U.S. equities rallied on speculation American companies have limited exposure to Britain.
Before it's here, it's on the Bloomberg Terminal.
LEARN MORE