Nomura Joins Yen Capitulators, Raises Forecast 17% on Brexit
Japan's biggest brokerage now sees 104 per dollar at year-end

Mizuho, HSBC, Citigroup also boosted estimates as much as 20%
Long-time yen bear Nomura Holdings Inc. has finally bowed to the market forces that drove the currency to 99 per dollar for the first time since 2011. It's far from alone.

HSBC Holdings Plc, Citigroup Inc., and Mizuho Financial Group Inc. join Japan's biggest brokerage in raising year-end yen forecasts by as much as 20 percent after the U.K.'s decision to leave the European Union spurred a rush for the currency as a haven. The median of estimates compiled by Bloomberg has shifted 3.6 percent stronger this month, the most for year-end forecasts within any year since 2011, when the yen was on its way to a record high following the devastating earthquake and tsunami in March.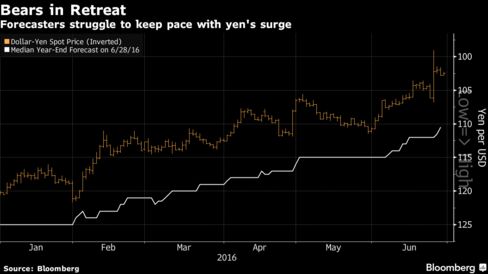 The capitulation among yen bears is a worrying sign for Japanese policy makers, as the currency's 20 percent surge over the past 12 months -- the most of any currency globally -- threatens to undo the effect of more than three years of unprecedented central bank stimulus. Bank of Japan Governor Haruhiko Kuroda has declined to comment on the potential for an emergency policy meeting, even as the outlook for the dollar has been clouded by speculation Federal Reserve Chair Janet Yellen is now more likely to cut interest rates than raise them amid questions over the strength of the U.S. recovery after a weak May job report.
Brexit 'Shock'
"Brexit was a shock, but it wasn't the only reason we changed our forecast," said Yunosuke Ikeda, Nomura's Tokyo-based head of Japan foreign-exchange research. "At the end of May, Yellen was ready to hike rates in June or July, but then we had that really bad payrolls data."
Click here to listen to Ikeda in an interview with Bloomberg Television Wednesday
The yen has climbed 8.3 percent this month to 102.28 per dollar as of 4:33 p.m. in Tokyo. It briefly touched 99.02 last Friday, in the immediate aftermath of the U.K. referendum, ending the day with its biggest gain since October 1998.
'Tail Risks'
HSBC boosted its year-end forecast to 95 per dollar from 115, while Standard Chartered Plc followed with a similar increase to 100 from 120. Citigroup, the world's biggest currency trader, raised its estimate to 104 from 111, while suggesting the yen could trade within a 95-100 range in coming months. Mizuho now sees a rally to 97, instead of a slide to 112.
"Events we'd viewed as tail risks this year are actually becoming reality, and Brexit was a big one," said Masafumi Yamamoto, Mizuho's chief currency strategist in Tokyo. "Uncertainties have deepened for economic growth, and the likelihood of the Fed raising rates is approaching zero. That's cleared the way for dollar-yen to decline."
Yen strength has surprised most analysts this year amid jitters about Chinese growth and the U.S. recovery, even prior to the U.K. referendum, as investors were attracted to Japan's current-account surplus, the broadest measure of trade flows.
The median forecast at the start of the year, when the yen was around 120, was for a drop to 125 at the end of 2016. It's currently for a decline to 111, even as the currency heads for its best year since the 2008 global financial crisis.
Brexit uncertainty has exacerbated doubts about the Fed's ability to raise interest rates, after payrolls data released June 3 showed the weakest hiring since U.S. employers were cutting jobs in September 2010. Fed funds futures indicate traders don't expect Yellen and her colleagues to tighten policy until 2018, while the odds of a rate cut this year are as high as 14 percent.
Prime Minister Shinzo Abe huddled with fellow Japanese policy makers for a fourth time in as many working days Wednesday, in a prolonged dialogue about the fallout from the U.K. vote. While the meetings bring expectations of stimulus from either the fiscal or monetary side, and have heightened speculation about intervention, they have yet to yield announcements for specific measures.
Before it's here, it's on the Bloomberg Terminal.
LEARN MORE