Brexit Vote Stokes Euro Breakup Concern Among Investors: Chart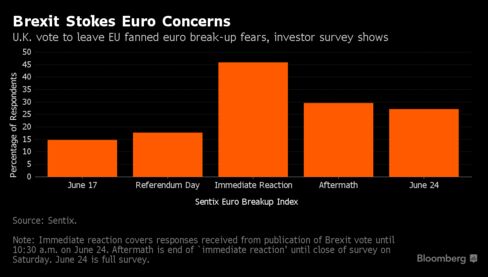 In a knee-jerk reaction to Britain's vote to leave the European Union, almost half of private investors predicted immediately after the referendum result that the region's single currency would splinter within the next 12 months, according a survey by research institute Sentix. While fears receded as financial markets digested the decision, the gauge measuring the likelihood of a euro breakup remained elevated -- at 27 percent on June 24 compared with 15 percent a week earlier. Sentix polled 1,300 investors, no margin of error was provided.
Before it's here, it's on the Bloomberg Terminal.
LEARN MORE