Sugar Costs Are Surging in Brazil as Supply Gets Shipped Out
Brazil's rising raw-sugar exports spur domestic shortage

Millers including China's Cofco divert cane for export supply
Brazil, the world's biggest sugar grower, is shipping so much of the sweetener abroad that domestic consumers are facing a supply squeeze and paying record prices.
Benchmark prices for crystal sugar, a variety of white sweetener consumed by the food industry in Brazil, rose 83 percent over the past year. Costs are on the rise after millers including China's Cofco Corp and USJ Acucar e Alcool SA diverted more cane to producing raw sugar for the export market rather than making the white sweetener variety used by local industry. Shipments from the country have boomed amid a decline for the real.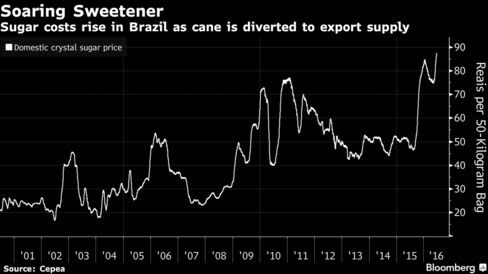 The higher prices are adding to the nation's inflation woes, making life more bitter for Brazilians facing the worst recession in decades. Domestic food and beverage companies struggling to secure white-sugar supplies are now paying producers a premium over international prices that's as much as four times higher than a year ago.
Crystal sugar has jumped 13 percent in June to 87.29 reais ($26.35) per 50-kilogram bag, according to data from Cepea, the research arm of the University of Sao Paulo. The price touched an all-time high 87.4 reais on June 24.
Cofco Cuts
Cofco decided not to produce any white sugar in its four mills in Brazil this year, cutting domestic supplies by as much as 300,000 metric tons. The company's raw sugar output in the country will rise by the same amount to as much as 1.2 million tons, said Marcelo de Andrade, global sugar president of Cofco Agri. USJ reduced output by 50,000 tons to 220,000 tons.
"It was a technical decision," Andrade said by telephone from Sao Paulo. "Our plants haven't been efficient in producing white sugar, so we decided to stop it for a while and divert more cane to producing raw sugar."
While the cuts in output at Cofco and USJ represent just a fraction of the 7.7 million tons consumed domestically in Brazil, when combined with reductions at other millers, it can have a major impact on the domestic market, said Luiz Gustavo Figueiredo, a commercial director at sugar mill Usina Alta Mogiana. The premium paid for white sugar to be delivered over the coming year rose to as much as $40 per ton over the price paid for raw sugar traded in New York. That's up from about $10 a year ago.
"The demand is the same, but the output is more scarce," Figueiredo said.
Food and beverage companies are also suffering for having postponed purchases earlier this year, when the outlook for a bigger crop prompted them to delay buying, according to Bruno Lima, the head of sugar INTL FCStone.
"Now, exports are strong, and stockpiles are low," Lima said by telephone from Campinas, Brazil.
Before it's here, it's on the Bloomberg Terminal.
LEARN MORE