Messi Exit May Slash Team Deals as President Begs Him to Stay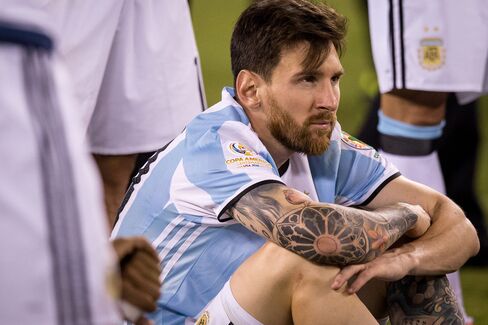 Sponsors may renegotiate with team after departure: Official

Fans, including president, ask Messi to reconsider retirement
Lionel Messi's decision to withdraw from international soccer is putting sponsorship deals for Argentina's national team at risk, as President Mauricio Macri joins the ranks of fans begging the world's best player to reconsider.
"Without Messi, fans aren't dying to see the team play," Guillermo Tofoni, head of the group that organizes exhibition matches for Argentina, said on TN television on Tuesday. "Today, you negotiate contracts on the basis of whether Messi is or isn't on the team. The football federation could lose 50 percent of its revenue from contracts set to be renegotiated."
The pull of Messi, 29, was evident over the past month when fans flocked to stadiums across the U.S. to watch the record five-time FIFA World Player of the Year in action at the Copa America. The event ended with Messi announcing he'd quit the national team after his team lost on penalties in the final to Chile for the second straight time.
Thousands of fans wearing replica Messi jerseys produced by Adidas AG watched stunned as the Barcelona player missed his penalty in the shootout defeat before slumping to the floor in anguish following Chile's winning strike. Messi, who is a serial title collector with Barcelona, has lost all four of the finals he's played in for the senior Argentina team, including the 2014 World Cup.
'Over for me'
"The national team is over for me," Messi told Argentinian television shortly after Sunday's game in New Jersey. "It is for the good of everyone, for me and for all. I've tried a lot and we can't win a title. I'm unable to get it, it hurts me more than anyone."
As well as its jersey deal with Adidas, Argentina has sponsorship agreements with Coca-Cola Co. and brewer Ambev SA. Messi broke the record for the most goals scored for the Argentine national team during the Copa America and Adidas celebrated the achievement by posting a picture on Twitter of a fan wearing the team's jersey bowing at Messi's feet, with the strap line "Hail King Lio".
The sporting goods maker said it didn't have a comment on his decision to retire, and there were no plans to change its relationship with Argentina.
Macri, the former president of Argentina's most successful club team, CA Boca Juniors, joined fans across the South American nation in urging Messi to reconsider his decision. Through tweets and an official statements from his office, Macri helped popularize the handle #notevayaslio, which means Lionel, don't leave. Operators of the Buenos Aires subway posted the same sign at almost a dozen station entrances across the city.
Before it's here, it's on the Bloomberg Terminal.
LEARN MORE