Japan Yields All Drop Below 0.1% First Time in Global Bond Surge
Bond yields in Australia, U.K., Korea drop to all-time lows

Treasuries slip after yields approached record low last week
Japan's benchmark bonds are now all yielding less than 0.1 percent for the first time, leading a global surge in sovereign debt, as the U.K.'s decision to leave the European Union threatened to slow growth and keep the Federal Reserve from raising interest rates.
The rally in Japan pushed yields on the nation's longest debt, the 40-year bond, to 0.065 percent. Australia's and South Korea's 10-year yields dropped to unprecedented levels. Treasury prices slipped after yields approached records last week.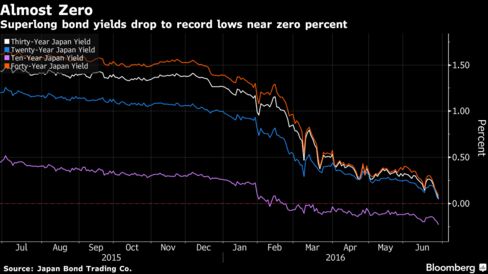 Bonds have surged since Britons voted last week to leave the EU, driving a rush for the relative safety of fixed-income securities. The probability the Fed will raise interest rates this year plunged to about 8 percent, futures contracts indicate, with a cut seen more likely. Japanese government bonds, or JGBs are getting an extra boost because the Bank of Japan is buying record amounts as part of its battle against deflation.
'Seismic' Impact
"There was a seismic result" in financial markets following the U.K. vote, said Toshifumi Sugimoto, chief investment officer in Tokyo at Capital Asset Management, who has 30 years of experience in the bond market. "It could set off a global recession. There's a strong need for JGBs. It's a safe haven, and there's a scarcity because the BOJ keeps buying."
The yield on Japan's benchmark 10-year bond dropped to an unprecedented minus 0.23 percent as of 7:21 a.m. in London. Thirty-year yields slid to an all-time low of 0.05 percent. Other records around the world include:
Australia's 10-year yield slid to 1.95 percent
U.K.'s 10-year yield fell to 0.93 percent Monday

New Zealand's 10-year yield declined to 2.3 percent
South Korea's 10-year touched 1.45 percent


Japanese yields will stay low even after the shock of Brexit subsides, bond investors said at a regular meeting with the Ministry of Finance in Tokyo Monday, according to a MOF official who spoke on condition of anonymity in line with policy. They also said that, while Japanese bonds have become slightly expensive, any increase in yields will probably attract buyers, the official said.
'No Supply'
"There is no supply coming for a while in the superlong zones, so yields will likely remain depressed," said Hiroki Tsuji, a market analyst at Mizuho Securities Co. in Tokyo.
QuickTake Negative Interest Rates
More than 80 percent of the JGB market has yields below zero, driving investors to those that are still positive.
As bonds surged worldwide, the yield on Bank of America Corp.'s Global Broad Market Index fell to 1.11 percent, the lowest in data going back to 1996. "Global yields will decline gradually," said Hideaki Kuriki, a debt investor at Sumitomo Mitsui Trust Asset Management, which oversees $80.4 billion in Tokyo. "The world economy will get worse. The Fed cannot hike."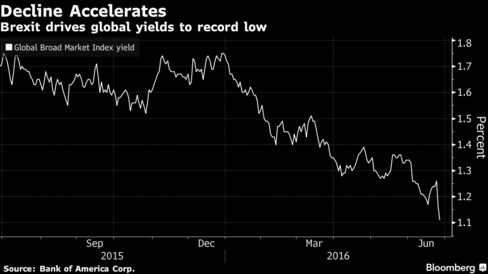 U.S. 10-year note yields climbed one basis point to 1.45 percent, according to Bloomberg Bond Trader data. The record low is 1.38 percent. The price of the 1.625 percent security due in May 2026 fell 3/32, or 94 cents per $1,000 face amount, to 101 19/32.
"The U.S. economy is not so weak," said Kei Katayama, a bond manager in Tokyo at Daiwa SB Investments, which has about $50 billion in assets. "Brexit has a huge impact. Everybody is trying to purchase Treasuries and bunds and gilts. But after everybody's finished buying, then I'm nervous" that prices may retreat, he said.
Before it's here, it's on the Bloomberg Terminal.
LEARN MORE