Stimulus Bets Raise Emerging-Market Bonds Above Brexit Hurricane
Turkish, Polish, S. African yields drop below pre-vote levels

Bets policy makers will respond with stimulus buoying bonds
Bond investors in the emerging-market countries most sensitive to the U.K.'s departure from the European Union have found themselves beneficiaries of the financial convulsions.
As the bonds have rallied from a sell-off immediately after the vote, yields on Turkish 10-year notes have fallen below where they were prior to the British referendum result on June 24. The rate on similar-maturity Romanian securities tumbled to a two-month low on Wednesday, while yields on South African notes fell the most in emerging markets after Brazil. In Poland, among the most exposed to so-called Brexit risk, bonds also gained for a third day.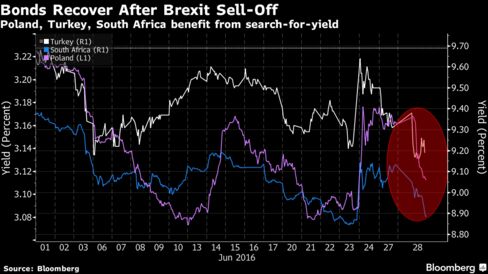 Investors are betting central banks across the world will respond to post-referendum volatility and threats to growth with monetary stimulus including expansion of Europe's asset-purchase program and the Federal Reserve putting its plans to raise interest rates on ice. That's shone a spotlight on countries offering the best refuge from near-zero or negative rates.
"The bonds are rallying on expectations that the Fed will stay on hold for longer and that European Central Bank quantitative easing can be expanded," said Koon Chow, a London-based strategist at Union Bancaire Privee, which oversees $112 billion in assets. "Euro area downside growth risks are a reason to be more dovish on central and eastern Europe, South Africa and Turkish monetary policy."
Polish local-currency government bonds offer "relative value," Chow said, recommending overweight positions in Russia, Indonesia and Brazil in a diversified portfolio.
For a story on market outlook for Federal Reserve rate increases, click here
Risk Sensitive
Those countries' bonds are still subject to risks that threaten the rally. The EU's eastern member states, such as Poland and Romania, are vulnerable to the U.K. leaving the bloc because they are recipients of financial support from a budget to which Britain is the third-biggest net contributor.
Turkey depends on foreign investment to finance a current-account shortfall, leaving its markets sensitive to global volatility while Germany and the U.K. are its biggest export destinations. The impact of Brexit on South Africa is mainly through prices of raw materials that the country exports.
Still, emerging-market investors are accustomed to such risks, according to Chow.
The yield on South Africa's 2026 bond fell 13 basis points to 8.76 percent on Wednesday, while the rate on similar-maturity Turkish notes was 9.36 percent, down 37 basis points over the past three days.
"If you want to have yields, and many investors do need yield, you have to go out on the risk scale," said Viktor Szabo, a money manager at Aberdeen Asset Management Plc, which oversees about $10 billion in developing-country assets. Szabo said he has a neutral position in South African bonds. "Emerging markets look to offer quite decent opportunity even after the Brexit."
Before it's here, it's on the Bloomberg Terminal.
LEARN MORE