Spanish Bond Yield Drops Most Since 2014 After Rajoy Wins Vote
Ten-year yield erases surge on Friday caused by Brexit

Rajoy's People's Party consolidates power, to hold talks
Spanish government bonds jumped, pushing the yield down by the most in two years, after Acting Prime Minister Mariano Rajoy defied opinion polls to consolidate his position in the country's general election after Brexit rocked the world's financial markets last week.
The nation's 10-year bond yield fell below that of similar-maturity Italian sovereign securities for the first time since July after election results showed the caretaker premier and his People's Party bolstered their position as the electorate shied away from the anti-establishment party Podemos, which polls wrongly forecast would come in second.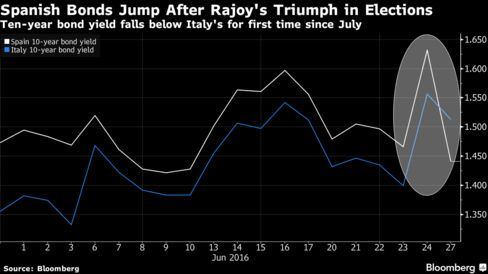 "Investors were expecting a large amount of political instability, so a small improvement from that -- with a greater likelihood of a center-right coalition or even a PP minority government -- is enough to cause a rally in Spanish bonds," said Antoine Bouvet, a London-based rates strategist at Mizuho International Plc. "Fundamentally though, the path toward a stable government remains unclear."
Rajoy must hold talks with competing parties that so far have blocked the path to extending his term at the helm of the euro zone's fourth-biggest economy since inconclusive elections in December. On Monday he told Spaniards he'll finally have the foundations in place for a new government within the next month, an assertion that wasn't seconded by the three other main parties.
The result "was quite inconclusive and we are back to square one," said Piet Lammens, head of research at KBC Bank NV in Brussels. "The outperformance of Spain today should not go too far."
Brexit volatility
Spain's sovereign securities on Monday may stay volatile amid continued investor concern about British voters' choice of a Brexit, which sent peripheral bonds diving on Friday and pushed up Spain's 10-year yield by the most this year. Riskier assets suffered as the decision threw uncertainty onto the political future of Europe, bolstering speculation other nations will move to hold similar referendums.
The 10-year bond yield dropped 17 basis points, or 0.17 percentage point, to 1.46 percent as of 4:30 p.m. in London, the biggest decline since June 2014 on a closing basis. The 1.95 percent security due in April 2026 climbed 1.59, or 15.90 euros per 1,000-euro ($1,101) face amount, to 104.46.
The yields of similar-maturity Portuguese and Italian bonds, which often move with Spanish, fell less than six basis points each.
Rajoy's PP won 137 seats in the 350-strong Spanish chamber, followed by the Socialists with 85. Anti-establishment group Podemos was unchanged at 71, while the liberals of Ciudadanos won 32.
Before it's here, it's on the Bloomberg Terminal.
LEARN MORE