'Dory' Tops Weekend as 'Independence Day' Gets Tepid Opening
Fox's alien invasion update is latest sequel to come up short

Sales for top 10 pictures increase 1.7% from year earlier
Walt Disney Co.'s "Finding Dory" placed first at the box office for a second weekend, beating the modest opening for "Independence Day: Resurgence," a big summer release from Twentieth Century Fox.
The sequel to "Finding Nemo" posted estimated weekend sales of $73 million in U.S. and Canadian theaters, researcher ComScore Inc. said Monday in an e-mailed statement. BoxOfficePro.com had forecast $75 million. "Independence Day: Resurgence" placed second with revenue of $41 million, shy of projections.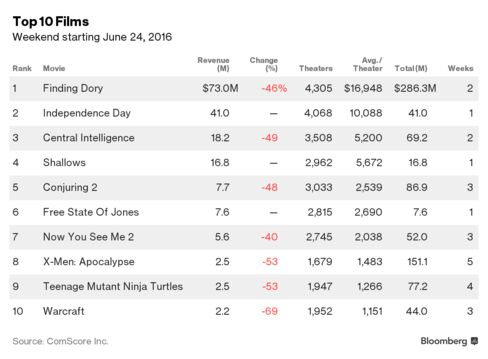 The opening for "Resurgence" fell short of the original "Independence Day" from 20 years ago. The film also cost twice as much to make and is forecast to generate only half the domestic sales. That underscores the challenge sequels face with today's fickle fans, or what's been dubbed "sequelitis." Overseas sales could deliver the revenue the studio is looking for.
"Independence Day" came in at the low end of the studio's projected range, said Chris Aronson, president of domestic distribution for 20th Century Fox. "There is a little bit of sequelitis going on" for the industry this summer, he said, saying it's not clear whether fans are voting on quality or originality.
Film Budget
"Resurgence," cost 21st Century Fox Inc.'s film division $165 million to make, not including tens of millions for marketing, according to Box Office Mojo. The new installment was forecast to debut with sales of $57 million to $62 million according to Doug Stone, at Box Office Analyst. The studio itself was estimating about $45 million.
"Resurgence" will generate about $135 million in the U.S. and Canada through its full run, analysts at BoxOfficePro.com had forecast. Stone estimated it could do $180 million. The original took in $306.2 million overall at home.
The film features a new extra-terrestrial threat to Earth and a group of humans led by Liam Hemsworth and Jeff Goldblum struggling to save the world. The movie was panned by critics, with 33 percent giving positive reviews, according to RottenTomatoes, and doesn't feature Will Smith, the star from the original picture.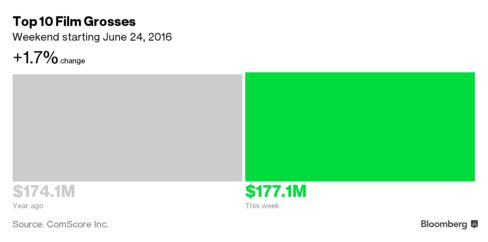 "Dory" has taken in almost $400 million globally in 10 days of its release and has yet to open in Germany, Italy, the U.K., Korea, Japan, Brazil and Mexico, Disney said in a statement. The widely anticipated film features much of the original cast from Pixar's 2003 hit "Finding Nemo." It scored a 94 percent approval rating from critics on RottenTomatoes.
Among other new films, Sony Corp.'s "The Shallows" opened with $16.8 million to place fourth. It was predicted to tally $14.7 million at Hollywood Stock Exchange. "Free State of Jones," distributed by STX Entertainment, placed fifth with $7.57 million, versus a prediction of up to $10 million from Stone. Amazon Studios' movie "The Neon Demon," co-distributed by Broad Green Pictures, produced $589,014 in sales from 783 locations.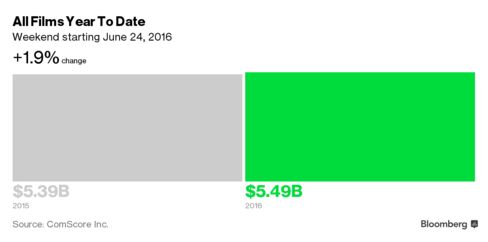 Before it's here, it's on the Bloomberg Terminal.
LEARN MORE