Rattling off numbers as high as $23,000, an auctioneer sporting a thick Texas accent brought in $109,295 at a U.S. Marshals Service sale of items from James "Whitey" Bulger's Santa Monica apartment, where the mobster was found hiding in 2011 after running from the law for 16 years.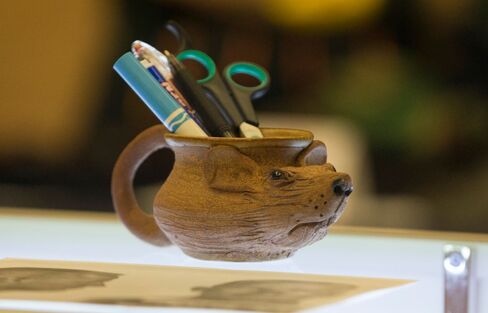 A mug shaped like a rat went for $3,600, which came as a surprise to the marshals. The clay rodent vessel comes complete with a handful of stationery supplies owned by the Irish-American organized-crime boss, including a pair of scissors, pens, and a blue Crayola marker. The hat he was arrested in, currently in a museum, sold for $6,400.
Bulger's Psycho Killer Skull ring sold for $5,200, and a 14-karat gold, three-carat diamond Claddagh ring went for $23,000. The gold ring was one of the most intrinsically valuable items up for sale, along with a diamond engagement ring owned by Bulger's girlfriend, Catherine Greig, which sold for $14,500. A replica of a 1986 Stanley Cup Champions ring brought a winning bid of $9,100.
Over 250 bidders participated in Saturday's auction, which allowed mafia history enthusiasts to bid online and in person at the Boston Convention and Exhibition Center. Proceeds of the sale will go to Bulger's many victims—he was indicted in connection with 19 murders. Despite the recovery of over $800,000 in cash from his hideout and a successful auction, however, the total falls far short of the more than $25 million forfeiture judgment against the 86-year-old imprisoned felon.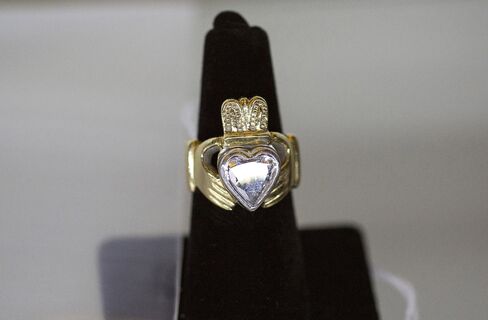 Ahead of the auction, Patricia Donahue said the items up for sale looked like they belonged at a yard sale. Bulger murdered her husband, Michael, in 1982. "You're talking about 20 victims here," she added. As for the profits, she said "something is better than nothing."
Outside of the jewelry, the highest-ticket items were personal effects of Bulger's, including the newspaper he was reading the day he was arrested, which sold for $500, a 1963 mug shot that went for $1,900, his punching bag, which fetched $4,900, and American mafia history books featuring marginal scribbles. On page 16 of Patrick Nee's A Criminal and an Irishman, blue cursive writing titled "Omission" describes a warning that was left out of the chapter (below). The book was part of a lot that brought in $1,900.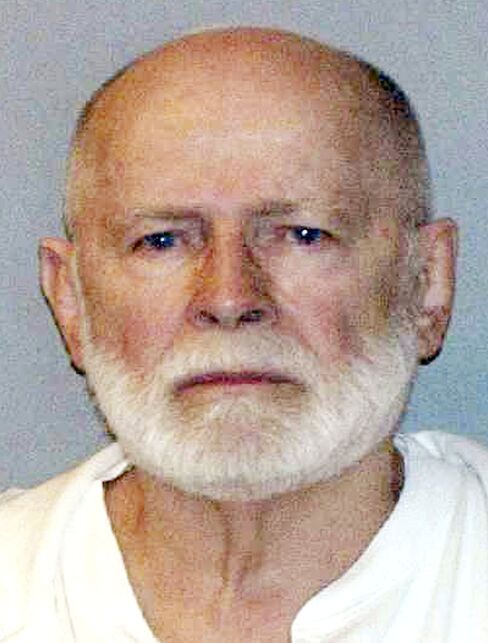 In his many World War II history books, Bulger shared his thoughts on Nazis and the Holocaust. "Sad. How could any one over see and enforce this on innocent people," he wrote in The War Against the Jews. "Power is deadly." In another book, he hypothesized that the Holocaust "could happen again" and offered his opinion on "the rise of radical Islam Muslims." The marshals decided it would be in poor taste to sell Bulger's collection of Nazi memorabilia and excluded it from the auction. Undergarments and toiletries were left out as well.
Derek Saffie came to the auction to purchase books or photographs but walked away with a belt and wallet owned by Bulger, the latter engraved with his nickname, Jimmy. "It was a personal item belonging to him. It was something he had and used," the Windham, New Hampshire, resident said. It cost Saffie $700, exactly his budget for the auction.
Most of the sale was dedicated to Bulger and Greig's many household items, including hundreds of articles of used clothing and a lumpy old couch that went for $35. A lot of four pairs of Bulger's used sneakers sold for $240, and a separate lot of 10 hats he is believed to have worn while on the lam brought $1,000. For $450, an online bidder purchased a lot including Bulger's T-shirts, sweatpants, and robe.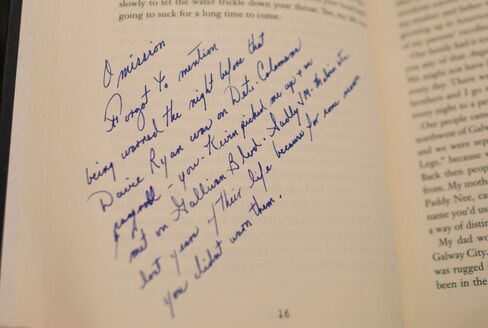 With every lot now sold, the marshals don't anticipate hosting another auction of Bulger's assets, according to T.J. Abernathy III, assistant chief inspector of the service's asset forfeiture division.
"Overall we were pleased with the outcome," he said. "We hope this will finally be the end of the Whitey Bulger saga here in Massachusetts and for the city of Boston."
Before it's here, it's on the Bloomberg Terminal.
LEARN MORE