In São Sebastião, a three-hour drive east of São Paulo, a 63-mile stretch of white-sand coastline is dotted with the mansions of Brazil's super rich. "There are really two main things that people care about here," says architect Arthur Casas, who's built seven homes in the area and likens it to the Hamptons in New York. "The view and the privacy."
He pulled off both with this four-house "condominium" developed and commissioned in 2011 by Brazilian construction company GD8 and owned by Ana Lucia Marcondes, who found it ideal for her family to be able to spend weekends together but still be separate enough. Casas built four structures, each three stories tall with its own private access to the beach, yet still sharing a main entrance and the amenities of the 25,000-square-foot property.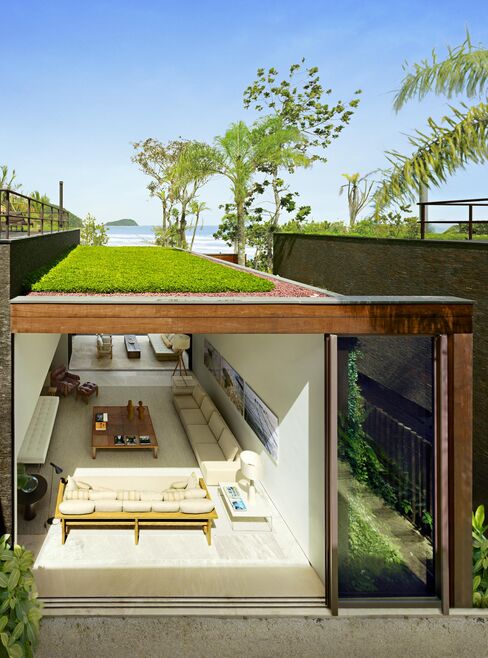 Casas solved the issues together: He emphasized the dramatic living room view of the ocean by blocking any internal views of the other buildings in the complex, giving each a feeling of total independence. The living room roofs are planted with grass, which not only blends in naturally with the scenic landscape but also gives the master bedroom penthouses (and the sunbathing decks above) unbroken views of green all the way to the ocean. "It also brings in lots of birds and butterflies," Casas says. And rather than a fencelike privet to offer privacy from the road, Casas and his team brought on landscape designer Gil Fialho to cover a retaining wall with native tropical plants.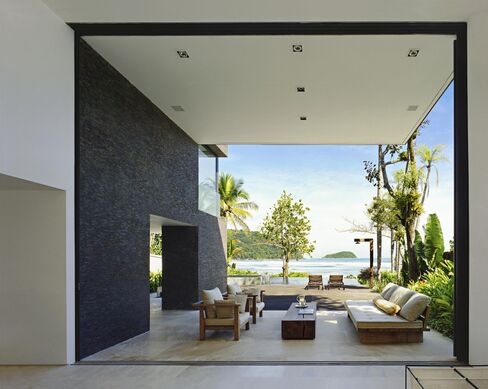 A corridor along the courtyard, connecting the master suite with the other bedrooms, is protected by wooden louvers that keep the spacious areas ventilated. Inside, each large living room is decorated with a sofa and coffee table designed in-house by the Studio Arthur Casas team. Brazilian staples such as a Mole armchair by Sergio Rodrigues, Vareta lamps, and Kamy rugs fill out the rooms. The floor-to-ceiling glass panels that frame the view of the ocean slide open, erasing the boundary between what's inside and what's outside on the terrace, which has a deck, chaise lounges, an infinity pool, and a barbecue grill.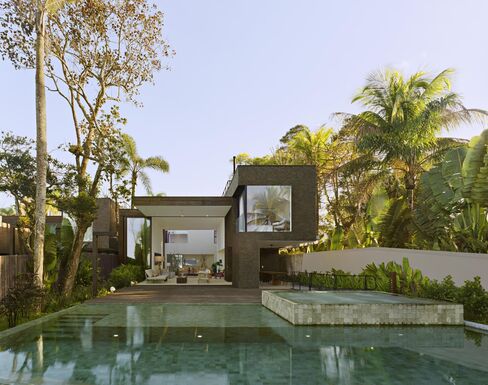 (
Corrects name of owner and clarifies who commissioned the house in second paragraph.
)
Before it's here, it's on the Bloomberg Terminal.
LEARN MORE