Hedge Funds Were Most Bullish on Bonds Since 2004 Before Brexit
Net long positions on Treasury bond futures soar: CFTC data

U.S. government debt surged following the 'Leave' victory
Futures speculators were the most bullish since 2004 on Treasury bond futures in the lead-up to this week's U.K. referendum on European Union membership.
Hedge funds and other traders boosted net-long positions on bond futures to 103,471 contracts as of June 21, two days before the British vote, from about 77,277 a week earlier, according to Commodity Futures Trading Commission data released Friday.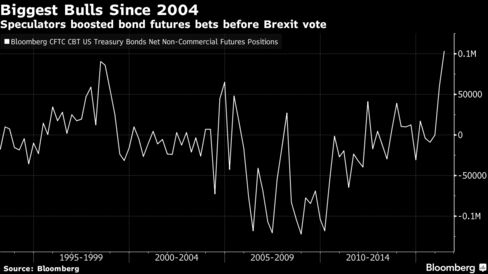 The traders' positioning has grown more bullish since the weaker-than-forecast labor report for May and as Federal Reserve officials on June 15 released projections indicating they expect to lift interest rates at a slower pace.
The stance proved prescient as Britons' vote to leave the EU caused Treasury yields to plunge Friday, while futures traders slashed bets on a Fed rate increase this year. The market-implied probability of a Fed hike in 2016 fell to 17 percent, from 38 percent a week ago.
Treasuries maturing in 10 or more years returned 10.3 percent this year through June 23rd, data compiled by Bloomberg show.
Before it's here, it's on the Bloomberg Terminal.
LEARN MORE