Hedge Funds Add Bearish Pound Bets Before Brexit Tumble: Chart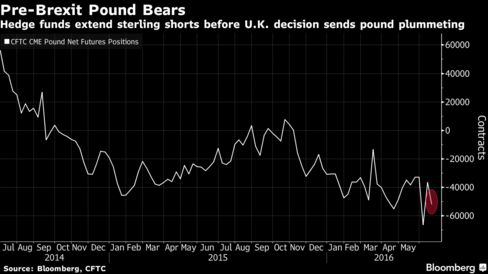 As markets tilted toward a "Remain" outcome and the British pound climbed in the days leading up to the U.K.'s decision to quit the European Union, hedge funds and other large speculators extended net bets on sterling weakness in the week ended June 21, according to Commodity Futures Trading Commission data. The positioning paid off: The pound, which has fluctuated vigorously since the start of the campaign in February, plunged to a 30-year low versus the dollar after the vote.
Before it's here, it's on the Bloomberg Terminal.
LEARN MORE