ABB Chief Tells Staff a Kuka Bid Is 'Pure Speculation'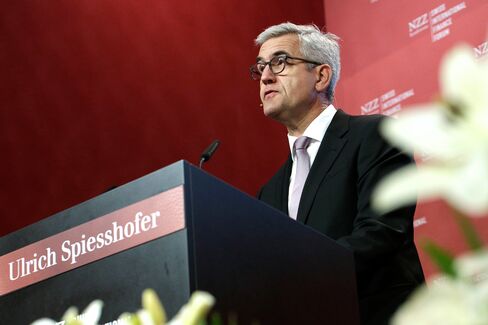 Spiesshofer writes in memo of ABB's critical automation mass

CEO Says ABB well-positioned to grow under 'own steam'
ABB Ltd. Chief Executive Officer Ulrich Spiesshofer said reports it will make an offer for German robot maker Kuka AG are nothing but conjecture because the Swiss company already has built up its own sizable automation business.
"Recent media reports that we will bid for our German competitor Kuka are pure speculation," the CEO said in an internal memo distributed to staff and seen by Bloomberg on Friday. A spokesman for ABB declined to comment.
With the note, the ABB chief executive counters talk the Zurich-based company will try to acquire Kuka, which is being pursued by China's biggest appliance maker Midea Group Co. in a tender offer that began last week. The move has created political hand-wringing in Germany over fears the country is losing control of home-grown technological expertise and provoked calls for an alternative European investor. Economy Minister Sigmar Gabriel is leading an effort to find a suitor in the region, and has courted ABB and Siemens AG, a government official said this month.
"We have not had to acquire market share to reach critical mass in this business," Spiesshofer said in the memo. "We already have this critical mass and are well positioned to keep growing profitably under our own steam."
Germany's options for Kuka are dwindling. Siemens Chief Executive Officer Joe Kaeser has said the engineering company isn't interested in buying the robot maker. Midea's June 16 offer to raise its stake in Kuka is valued at 4.6 billion euros ($5.1 billion), or 115 euros a share. Kuka has 14 days to respond. The stock fell 0.3 percent to close at 107.35 euros.
Before it's here, it's on the Bloomberg Terminal.
LEARN MORE