Putin's Trade Pivot to China Isn't All Smooth as Silk for Russia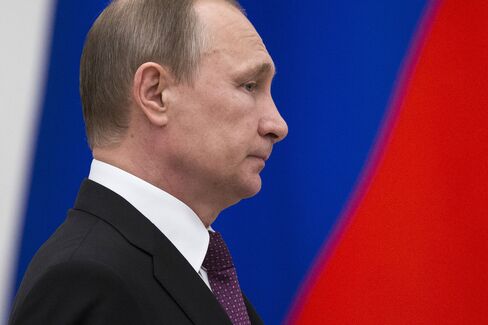 Russian president to discuss Silk Road project with China's Xi

Russia-China trade fell 26% to $68 billion last year
Russian President Vladimir Putin will discuss China's plans for reviving the ancient Silk Road trade route to Europe during talks with President Xi Jinping in Beijing this weekend. Russia's finding its own road to better trade ties with its neighbor isn't running entirely smoothly.
Joint projects are losing momentum and trade between the two countries is declining as Russia struggles with its longest recession in two decades. While Kremlin aide Yuri Ushakov says "a solid package of agreements and commercial projects" will be signed during Putin's visit, there won't be anything approaching the huge energy deals of past meetings with Xi.
"It's impossible to sign super-sized agreements at each summit," Ushakov told reporters in Moscow on Wednesday. "The most important thing is to start to implement them."
Squeezed by the crash in oil prices and U.S. and European sanctions over the Ukrainian conflict, Russia's looking east to try to expand trade with China, its biggest single partner, as its economy suffers a second year of recession. Putin's eager to show that sanctions haven't left Russia isolated by fostering economic, military and diplomatic ties with China, even as he also reaches out to other powers including India and Japan. Japanese Prime Minister Shinzo Abe told Putin that relations between their countries "are developing rapidly" after he snubbed a U.S. appeal not to make a rare bilateral visit by a Group of Seven leader to Russia in May.
Putin, Xi
Putin and Xi meet on June 25 to discuss energy, transport infrastructure, aircraft construction and rocket production, Ushakov said. They'll discuss integrating planned trade and transport corridors under the Silk Road initiative with the Russian-led Eurasian Economic Union of former Soviet states. Rosneft PJSC Chief Executive Officer Igor Sechin and Gazprom PJSC CEO Alexey Miller will join Putin's delegation, he said.
More than 50 agreements are being worked on, Ushakov said, declining to provide details. The Silk Road talks seek to develop "a new level of partnership, which means building a common economic space on the whole Eurasian continent."
Putin's pivot to China initially brought tie-ups involving Russia's biggest state-run energy companies, with the $270-billion oil supply deal agreed on by Rosneft in 2013 and a $400-billion natural gas contract clinched by Gazprom in 2014. Most of the framework accords on energy signed in the past two years haven't led to firm contracts, however.
Sanctions Fear
One exception was a $12-billion loan agreement signed by the Arctic Yamal LNG project and Chinese lenders in April after almost two years of talks. Chinese companies also got minority stakes in some mining projects.
Chinese investments are starting to flow into Russian agriculture, which is shielded from some competition by Putin's ban on food imports from Europe and the U.S. in retaliation for the sanctions.
"The Chinese take a long time to decide," Boris Titov, chairman of the Russian-Chinese Committee of Peace, Friendship and Development, said by e-mail. "All the big banks are afraid of how sanctions may affect them, since they're part of the international payments system."
Medium-sized Chinese companies are entering Russia in fields such as engineering and agriculture with encouragement from the government in Beijing, though they're treading "very carefully because they're concerned about the business climate," said Titov, who will be part of Putin's delegation.
Trade Decline
Russia's trade with China fell by 26 percent in 2015 to $68 billion amid lower oil prices and a weaker ruble, leaving the countries far off their target of $100 billion. China is grappling with its slowest growth in 25 years amid weakening trade, rising debt and capital outflows that have spurred unease after the world's second-largest economy missed its 2015 target for expansion.
Russia's considering selling a 19.5 percent stake in Rosneft to Chinese and Indian investors in a deal that could raise at least 700 billion rubles ($10.9 billion) as Putin seeks to narrow the budget deficit and meet spending commitments before his possible re-election bid in 2018. India's expanding its presence in Russia with state-run Oil & Natural Gas Corp. and a consortium of smaller producers buying 49.9 percent in Rosneft's Vankorneft unit, one of Russia's largest crude suppliers. Rosneft had been in talks with China on a stake in the company.
'Reliable Partner'
Gazprom planned to follow its first contract with China with another 30-year deal in 2014 to deliver gas from western Siberia. It's still working on that project, which may be discussed during this visit, the company said. Gazprom reached a framework agreement on a third gas-pipeline route from Russia's Far East when Putin visited Beijing last September and plans a memorandum of understanding this time on gas-storage facilities and gas-fired power generation in China, Vedomosti reported Wednesday. Gazprom declined to comment.
Financial relations aren't developing as quickly as Russia expected. The Finance Ministry intended to sell bonds of about 6 billion yuan ($912 million) this year to develop ties with the Chinese market, but now says it isn't sure China will complete all the technical preparations in time.
Difficulties in the global economy "had an impact on our collaboration, leading to a certain drop in the total trade," and "we are convinced it is a temporary phenomenon," Putin told China's Xinhua news service in an interview published Thursday. Russia and China are developing "a comprehensive partnership," said Putin, who called Xi "a very good friend and a reliable partner."
Cooperation with China remains "promising," Ushakov said. "There is no doubt that the level and depth of cooperation will increase."
Before it's here, it's on the Bloomberg Terminal.
LEARN MORE