Kenya Bourse Eyes Listings Rush as Commercial Lending Rates Soar
Three companies lining up to sell shares, exchange says

Share sales cheaper fund-raising option after bank failures
With commercial lending rates as high as 24 percent, more Kenyan companies are turning to the stock market to raise capital, according to Geoffrey Odundo, chief executive of the Nairobi Securities Exchange.
Nairobi Business Ventures Ltd., a maker of leather shoes and accessories, sold shares on the exchange this week, and three other companies are lining up, including Deacons East Africa Plc, a homeware and clothing retailer, Odundo said in an interview Wednesday.
The average lending rate of Kenyan banks is 18.3 percent, with some lenders charging as much as 24 percent for long-term business loans in the wake of the collapse of Imperial Bank Ltd. and two other banks, according to central bank data. Small- to medium-sized companies may find the stock exchange a cheaper option, Odundo said.
"Traction is building," Odundo said. An 11 percent decline in the benchmark index in the past has made valuations more attractive, he said. "Every investor would like to buy into you when you are on the low."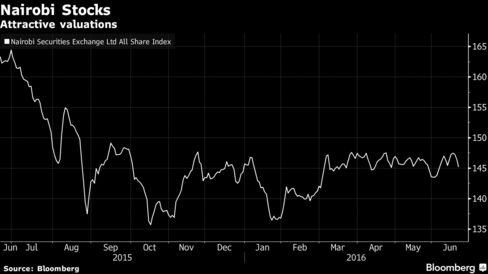 Elections set for August are adding impetus, with companies wanting to tap investors before political risks rise, said Edward Burbidge, CEO of Burbidge Capital. The official opposition has staged protests in Nairobi and other parts of the country since April to call for the removal of officials at the Independent and Electoral and Boundaries Commission, raising concern about instability before and after the poll.
"It raises the issue in people's mind, and so companies, if they are ready to issue now, are going ahead to do it before the end of the year because they might as well," Burbidge said. Among companies considering listings are a real-estate business and a financial-services company, he said, without naming them.
Before it's here, it's on the Bloomberg Terminal.
LEARN MORE