Indexing Frenzy Another Thing to Stress About in Stocks Friday
The annual event falls on the day when Brexit decision is made

Russell to stick to its rebalance schedule despite volatility
Friday's session is an eventful one for U.S. stocks.
As if results of the U.K. secession vote and bank stress tests weren't enough, today is also the date of the annual rebalancing of FTSE Russell's stock indexes, a procedure that reliably exacerbates trading. In 2015, the reconstitution helped fuel a jump in volume to more than 10 billion shares, the seventh-highest total of the year.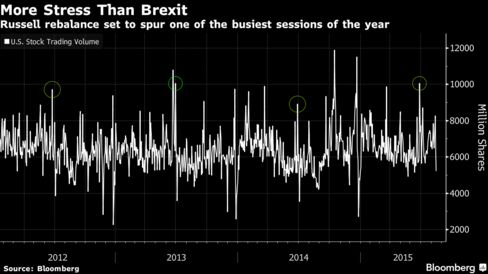 It's a lot to digest in a market where Britain's decision to leave in the European Union sent S&P 500 down as much as 2.8 percent at a time when equity volatility is already running 10 percent above this year's average. Similar market mechanics were at work a week ago when the quarterly expiration of options and futures pushed the U.S. benchmark to a loss on a day when the rest of the world rallied.
"It's going to be one of these days when you want to be on guard all day long," said Peter Tuz, who helps manage $360 million as president of Chase Investment Counsel Corp. in Charlottesville, Virginia, and plans to delay transactions at least until Monday. "It has the potential of being a very volatile day."
U.S. shares joined global selloff in risky assets after the U.K. voted to leave the EU, defying opinion polls and sparking concern that the exit would roil the world's fifth-largest economy and unleash a wave of political uncertainty across Europe. The S&P 500 had its biggest rally in a month on Thursday, sitting less than 1 percent away from a record, amid speculation that the referendum would result in no change.
The Brexit-fanned price swings may challenge money managers who must buy and sell shares to mimic changes in Russell indexes. While a preliminary list of changes was announced on June 10, the rebalancing takes effect after the close of U.S. markets Friday. Similar arrangements in the past have sparked late-hour trading frenzies as funds linked to the indexes try to match the revisions as close as possible.
As long as exchanges are open, FTSE Russell will stick to the schedule regardless of volatility, said Tom Goodwin, the firm's senior research director. This year's turnover in Russell indexes is roughly in line with 2015, he said. In the broad Russell 3000 Index, there will be 184 additions and 133 deletions.
"We've got a lot of procedures in pace to deal with high volatility," Goodwin said in an interview in New York. "We typically get high volatility along with it around reconstitution just because there is so much moving around. Really, a lot of it is the stock exchanges' problem. We just record it at a certain point in time, and that's how we rebalance our indexes."
FTSE Russell's global stock indexes, including the Russell 1000 Index and the Russell 2000 Index, are used as benchmarks for about $10 trillion in assets, according to the company. In three of the previous four years, the reconstitution day ranked in the 10 busiest trading sessions, data compiled by Bloomberg show.
While the rebalance may not arrive at the best time, the early release of the changes should have given fund mangers enough time to prepare for the day, according to Michael Arone, the Boston-based chief investment strategist at State Street Global Advisors' U.S. intermediary business.
"The Russell rebalance induces a little bit of individual volatility but they announce the names," Arone said. "It's reasonably well-telegraphed so I don't anticipate that will cause much of a challenge."
Yet in a day where the market is wrestling with the Brexit vote and the Federal Reserve's results of its bank stress tests, the shuffle adds another layer of complexity. After the market closed Thursday, the central bank said its tests found the 33 biggest banks all have enough capital to weather a severe economic shock while Morgan Stanley trailed the rest of Wall Street in a key measure of leverage.
"It complicates the matter even further," said Joseph Tanious, a senior investment strategist at Bessemer Trust in Los Angeles, which oversees more than $100 billion. "To the extent you have a manager who hugs the benchmark, it's going to create some challenges. You may run into some liquidity issue."
Before it's here, it's on the Bloomberg Terminal.
LEARN MORE