Where Shake Shack's Top Chef Goes for Great Burgers
He may have found the world's coolest hamburger.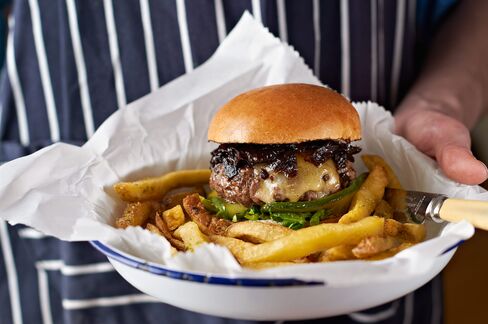 Burgers are Mark Rosati's life. As culinary director of Shake Shack, he explores burger culture worldwide.
So where does he go when he wants a burger, and how does London compare with New York?
"In New York City, there is a lot of creativity but people are inspired by each other, and our food has a lot of common threads," Rosati says over a lunch of tacos and margaritas at Santo Remedio in London. "In the burger world, we're all about keeping it simple: using few ingredients and letting them speak for themselves.
"But in London, I see a lot of toppings that are on the sweeter side and there is a kind of harmony with the savory. There's a complexity. It's a different vision that is as excellent as anything I have found in New York.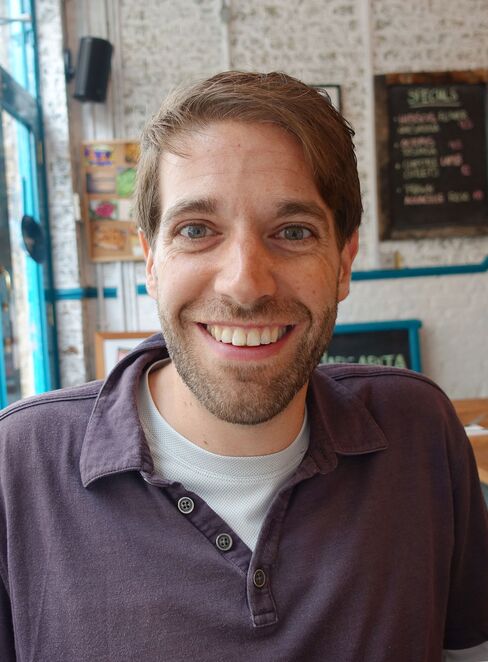 "The other thing is, I've not seen many fine-dining establishments here in London with burgers. In New York City, it is one of the big trends. A lot of the great burgers here are coming out of small restaurants where people just put together a grill and a fryer and a vision.
"Honest Burgers came out of Brixton and that is inspiring. And Bleecker St., one of my favorite burgers over here, was a food truck. In the U.S., burgers started out in road stands like in California in the 1950s and humble origins. It feels like that is happening here and maybe will get to the point where every fine-dining restaurant has a burger."
In London, he has been impressed by Joe Grossman, who founded Patty & Bun: "There is no other burger place in the world that feels quite like it because it is Joe's personality that is permeating the entire menu, the space, the hospitality."
He's also a fan of Honest Burgers: "I remember the first time I went. I thought, this feels like a place I would go in New York maybe once a week."
Rosati reserves his some of his biggest praise for Zan Kaufman, who moved to London from New York and opened Bleecker St. serving the signature Bleecker Black.
"It is one of the coolest burgers I've ever seen," he says. "It is so simplistic - a cheeseburger with a piece of black pudding in the middle - with one or two ingredients speaking volumes. But wow. It is cool and smart and she is harnessing a lot there."
So where should a visitor to New York go for burgers? Rosati names five places.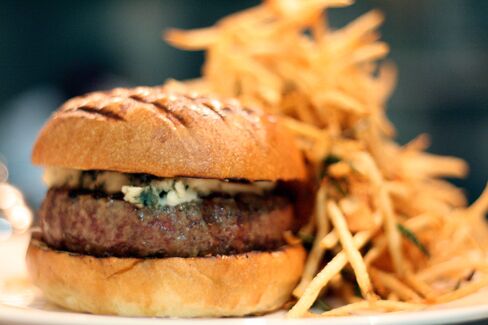 The Spotted Pig: Chef April Bloomfield has developed "a very rich, very powerful burger. She does it simply with blue cheese on the top but it is legendary."
Minetta Tavern: "They started another chapter in the great American burger folklore when they worked on the Black Label Burger, where they were taking aged cuts and bringing them into the mince for a very rich flavor and a lot of complexity."
Corner Bistro: "I've been going to Corner Bistro since I first moved to New York City, and it hasn't slowed down one bit. It takes forever to get your food because it is a small kitchen. It's a fun place to go. Buy a beer. Eat a burger. It's very uncomplicated. "
Roberta's: Chef Carlo Mirarchi is known for his pizza at this Brooklyn restaurant, but his burger also "is very good. It's dry-aged. He serves it on a potato bun, very simple and very flavorful. He's a master of coaxing complexity out of simplicity."
Emily: "Matt (Hyland) is another guy who started out doing pizzas. He serves his burger on a pretzel bun with dry-aged beef and a mixture of mayonnaise and gochujang, with caramelized onions and cheddar. It is awesome."
Richard Vines is chief food critic at Bloomberg. Follow him on Twitter @richardvines and Instagram @richard.vines
Watch Next: This Veggie Burger Is So Close to Meat It Bleeds
Before it's here, it's on the Bloomberg Terminal.
LEARN MORE