Skandia boost investments in real assets to protect returns

Growing protectionism is biggest threat to economic growth
Stock investors will soon see the fallout of a global deterioration in trade relations that threatens to slow economic growth across the world, according to Sweden's second-largest life insurer.
Isolationism even poses a bigger risk than any potential decision by the U.K. to leave the European Union, according to Skandia Chief Investment Officer Hans Sterte, who oversees 384 billion kronor ($46 billion) of assets in the company's life insurance portfolio.
"The growth of world trade has stagnated and that's of course not good for global growth and the outlook for equities and other assets," he said in an interview in Stockholm on June 21. "Productivity growth is also muted, so that's of course a pretty sinister development with countries isolating themselves more when growth and times are getting worse."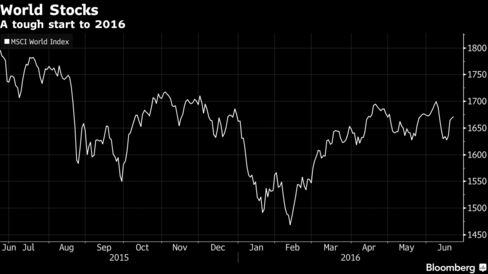 The world economy is gasping for momentum after years of crises that have roiled the U.S. and Europe and now a slowdown for emerging power house economies such as Brazil and China are adding to the strains. Meanwhile, the U.S. is struggling to reach deals to liberalize trade with Europe and Asia ahead of this year's presidential election, in which candidates have expressed more protectionist views.
To escape the potential pitfalls, protect returns and handle short-term volatility, Skandia has since 2012 increased investments in assets such as property, infrastructure, commodities and private equity. The company, which has 2 million customers and total assets under management of 563 billion kronor, will now continue to invest more in real assets amid concern over unprecedented central bank stimulus.
"I believe in real assets, to invest more in inflation-linked bonds, properties, infrastructure because financial assets have been so inflated by this enormous monetary stimulus that's been carried out," he said. "I see more value and more safety in real assets if I look five or 10 years into the future. I also like raw materials as well but that's also a bit dependent on how the economy develops."
Skandia's "all-weather" traditional portfolio has about 40 percent of its assets in fixed-income securities, 27 percent in equities, 10 percent in real estate, 10 percent in private equity and 7 percent in so-called alternative investments such as infrastructure and commodities.
Following three years of double-digit returns, the customer-owned company plans to at least double its infrastructure assets' share of the portfolio to 4 percent from 2 percent in coming years. It's 7.5 billion kronor of infrastructure investments include wind power parks, railways and highways.
It hasn't yet decided whether to keep commodities, which includes energy, soft commodities and metals, at 2.5 percent of the assets as their performance depend on global trade and growth. "We would need more stronger signals that growth is returning before we would increase our exposure to commodities," Sterte said.
As for looking ahead.
"We find risks everywhere -- the map is full of them," he said. "But we also see a lot of opportunities."
Before it's here, it's on the Bloomberg Terminal.
LEARN MORE